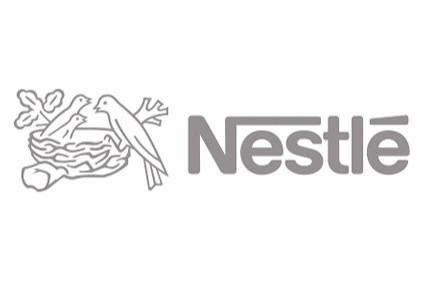 just-food presents the key metrics from company financials in bitesize format, with analyst insight and social media comment alongside graphs illustrating a business' historical performance to give you an easy-to-read digest of the numbers you need to know.
Nestle lowers annual sales figures in earnings restatement
Swiss food giant Nestle restated its annual figures to take into account new accounting standards and the reorganisation of its infant-nutrition business, with sales and profit numbers both lowered from what was previously reported. The standout was higher operating profit margins.
– Restates 2017 sales at CHF89.6bn (US$93.6bn) compared to CHF89.8bn previously
– Net profit cut to CHF7.51bn from CHF7.54bn
– Underlying trading operating profit margin raised to 16.5% from 16.4%
– Trading operating profit margin higher at 14.8% versus 14.7%
Nestle said it adopted International Financial Reporting Standards from 1 January for: revenue from contract customers; leases; financial instruments; and uncertainty over income tax treatments.
Mixed bag for Vion as 2017 sales rise while profits decline
Dutch meat giant Vion saw its sales move forward by 7% in 2017 but profits were down by 43.5% on a like-for-like basis. The company said its profits were hit by lower tax benefits and restructuring costs.
CEO Francis Kint said: "In 2017 we have achieved a lot. We improved our operational results for the second year in a row, with normalised EBITDA now up to EUR64m. At the same time, we continued our investment programme to improve our production footprint. Our investments now total EUR260m over the last four years, while maintaining our solvency ratio comfortably above 44%. Realising that the meat industry is at the heart of societal debate, we are actively engaged in stakeholder dialogues and proposing and implementing solutions."
– Net sales up 7% at EUR5.10bn (US$6.27bn)
– EBITDA up 5% to EUR64m
– Net profit down 43.5% at EUR22m
Avangardco sales hit by bird flu, but annual losses narrow
Ukraine egg processor Avangardco noted a "challenging" year in the wake of the avian influenza outbreak as sales slumped, although losses narrowed amid a pick-up in the final quarter.
Chief executive Nataliya Vasylyuk elaborated: "This was particularly the case during the first nine months of the year when we had to sell our shell eggs at below-cost prices as we were suffering from the consequences of the import trade ban on Ukrainian poultry products from several countries, following the avian influenza outbreak in Ukraine in Q1"
In 2018, the company expects the business environment to remain challenging in 2018, "but believes that the domestic demand contraction may have passed its lowest point and there will be no further sharp price fluctuations".

– Consolidated revenues drop 33% to US$127.9m in year to 31 December
– EBITDA increases to $11.8m from $1.5m
– Operating loss shrinks to $3.8m from $14.9m
– Net loss narrows to $7.5m from $56.6m
Wednesday 28 March
JBS FY net profits more than double even as sales fall
Brazilian meat giant JBS reported a surge in annual net profits in what CEO José Batista Sobrinho described as the "best operational results in our history". However, revenues fell in 2017.
"In 2017, we ended another year with solid, consistent results that demonstrate our capacity to overcome challenges," said Sobrinho following a year that included plant closures linked to a corruption scandal and the arrest of his sons over alleged insider trading.
– Revenue falls 4.2% to BRL163.2bn (US$49.1bn)
– Adjusted EBITDA climbs 18.9% to BRL13.4bn
– Operating profit rises to BRL1.15bn from BRL290.8m
– Reported net income more than doubles to BRL534.2m from BRL233.6m (adjusted net income BRL2.1bn)
COFCO Meat Holdings profits half as hog prices slide
China-based pork processor COFCO Meat Holdings saw full-year profits more than half amid a 20% drop in hog prices, even though production volumes of hog and sales volumes of fresh pork increased 30% and 21%, respectively.
In 2018, the company said it will "vigorously develop branded business, and transform high-quality hogs into high-premium pork products".
– Revenue rises 5.1% to CNY6.96bn (US$1.1bn) in year to 31 December
– Profit before tax slides to CNY447.8m from CNY949.2m
– Net profit slumps to CNY444.8m from CNY951.9m
Marfrig FY losses narrow amid sales dip
Brazil-based meat supplier Marfrig saw its annual losses narrow in 2017 despite a fall in sales.
Marfrig saw its fourth-quarter net revenue rise 8.1% in the fourth quarter amid an improved performance from its beef business. However, the quarterly increase was not enough to stem a decline over the year as a whole.
It added its fourth-quarter loss of BRL7.5m (US$2.2m) was its lowest since 2015.
For the year to 31 December:
– Net revenues fell 1.3% to BRL18.58bn
– EBITDA up 4.1% at EUR1.57bn
– Net loss of BRL460.7m, versus BRL688.6m in 2016
Germany's DMK points to benefits of restructuring
DMK, the Germany-based dairy group, today (28 March) booked improved top and bottom lines and cited the restructuring done at the business in recent months, which has included consolidating its production.
For the year to 31 December:
– Sales rose from EUR5.1bn (US$6.31bn) in 2016 to EUR5.8bn in 2017
– Earnings stood at EUR29.5m, versus EUR13.5m year earlier
Hilton Food Group sees sales, profits rise in 2017
UK meat and seafood supplier Hilton Food Group today (28 March) reported rising sales and profits in 2017, a year the company described as "transformational".
Over the last 12 months, Hilton has continued its international expansion with moves including an entry into seafood with the acquisition of UK business Seachill.
Hilton's results were boosted by favourable exchange-rate movements, while it reported a decline in basic earnings per share after the impact of exceptional items.
Chief executive Robert Watson said: "Hilton made good progress with volume and profit growth demonstrating our geographical and operational progress. This momentum has continued into 2018 and we continue to explore further expansion opportunities."
For the year to 31 December:
– Revenue up 10.1% at GBP1.36bn (US$1.92bn), 5.7% higher on constant-currency basis
– Operating profit rose 11.6% to GBP38.3m, or by 2.3% after exceptionals
– Profit for the year of GBP27m, versus GBP26.7m in 2016
– Basic earnings per share down 1.5% after exceptionals at 33.2p
Tuesday 27 March
McCormick Q1 sales boosted by RB Foods acquisition
US sauces and spices business McCormick & Co. has seen its first-quarter sales leap forward by 19% on a year-on-year basis, with 13% of that coming from the "incremental impact" of its acquisition of Reckitt Benckiser's food arm last summer.
CEO Lawrence Kurzius said: "McCormick's first-quarter results were a great start to fiscal year 2018 as we continue to build on the momentum of our milestone year in 2017. Reflecting the successful execution of our strategies, we delivered double-digit sales, adjusted operating income and adjusted earnings per share growth as well as significant operating margin expansion.
"Both our consumer and flavour solutions segments contributed to our constant currency sales growth of 15%. Our consumer segment grew across each region led by incremental sales from the acquisition of RB Foods in addition to strong growth in our Asia/Pacific region, led by China."
– Net sales up 19% at US$1.23bn
– Operating income up 36.8% at $183.7m
– Net income up to $422.6m from $93.5m in 2017
Sanford Bernstein's Alexia Howard said: "McCormick's first-quarter results were largely above expectations. Sales grew +19% year-on-year, which were largely in line with consensus and included a 12% contribution from recent acquisitions of RB Foods and Giotti. Adjusted gross margin of 42.0% was above consensus of 41.4%, benefiting from the RB Foods acquisition which was margin accretive and cost saving initiatives. Adjusted operating income rose by +41% YoY to $195m (including the acquisition impact), and beat consensus estimates by 1.8% as increases in sales and gross profit more than offset higher brand investments."
just-food analysis from July 2017: McCormick hot on Reckitt sauces deal despite fiery multiple
Mengniu Dairy returns to profit after reorganisation
China's Mengniu Dairy returned to profit in the year to 31 December as the reorganisation of its business divisions into room temperature, chilled, milk formula and ice cream, improved the company's operational and management efficiencies.
– Revenue rises 12% to CNY60.16bn (US$9.6bn)
– EBITDA climbs to CNY4.1bn from CNY956m in 2016
– Profit before tax CNY2.6bn versus CNY461.4m loss a year earlier
– Profit after tax CNY2.03bn compared to CNY812.8m loss
Ausnutria FY profits up on 'fine-tuning'
China-based dairy company Ausnutria saw sales and profits rise in the year to 31 December as the Hong Kong-listed firm "fine-tuned" strategic plans for its own-brand infant formula business and made improvements to its organisational structure.
– Revenue climbs 43% to CNY3.9bn (US$619.6m)
Revenue from own-branded formula cow milk up 55% at CNY1.58bn
Own-branded goat milk formula revenue rises 60% to CNY1.28bn
– Profit attributable to shareholders increases 45% to CNY308m
WH Group see 2017 turnover and profit move ahead
China's WH Group, the world's largest pork company, increased turnover by 3.9% in the year to 31 December, on a like-for-like basis. Underlying profit was up by 7.5%.
CEO Wan Long said: "WH Group's global operation management continues to improve after more than four years of integration and development. We believe we can achieve remarkable results in the coming year.
"In 2018, we will continuously strengthen global operations and business management, promoting the synergic development of global business. We adhere to an internationalised development strategy and we have strengthened the strategic planning of business, expanding the operational scale and scope of business."
WH Group owns US meat business Smithfield Foods.
– Turnover up 3.9% at US$22.37bn
– Underlying operating profit up 4.1% to $1.86bn
– Underlying profit attributable to the owners of the company up 7.5% at $1.09bn
Dairy Farmers of America 2017 sales up as milk prices soar but income down
Cooperative Dairy Farmers of America (DFA) saw sales move forward by 8.8% in 2017, on a like-for-like basis. It said unit sales growth and higher milk prices helped its progress.
However, its net income was down 3.3%.
DFA continued to grow its commercial investments in 2017. It acquired Cumberland Dairy, a family-owned processor of ultra-pasteurised dairy products located in New Jersey. Additionally, DFA expanded several facilities, including its plant in Middlebury Center, Pennsylvania and its Dairy Maid Dairy plant in Frederick, Maryland, which resulted in a total capacity increase for the two plants of 650,000 pounds of milk per day.
– Net sales up 8.8% to US$14.7bn
– Net income down 3.3% to $127.4m
Lassonde Industries FY sales growth driven by private label
Canada-based food and drinks company Lassonde Industries said sales growth in 2017 was driven by private-label products, partly offset by lower sales volumes in its national brands.
– Sales rise 2.4% to CAD1.52bn (US$1.18bn) in year to 31 December
– Operating profit up 5.6% at CAD133.3m
– Profit attributable to shareholders climbs 32% to CAD90m
Domty full-year profits more than double
Egyptian cheese maker Arabian Food Industries, or Domty, saw profits more than double in the year to 31 December.
– Sales rise 32% to EGP2.3bn (US$127.6m)
– Operating profit more than doubles to EGP163.5m
– Net income surges to EGP61.5m versus EGP25.6m a year earlier
In January, Domty said it would continue to pursue its domestic and international expansion with plans to enter the baked goods market in the first quarter.
Earnings summary for the week commencing 19 March features Conagra Brands, Nomad Foods, the UK's Boparan Holdings and a profit warning from General Mills.
Our recent financial analysis includes our takeaways from the 2017 results from UK private-label supplier Bakkavor and a dive into Danone's performance last year.