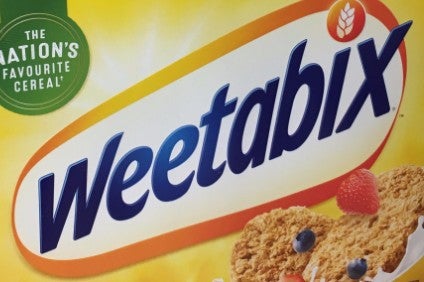 just-food presents the key metrics from company financials in bitesize format, with analyst insight and social media comment alongside graphs illustrating a business' historical performance to give you an easy-to-read digest of the numbers you need to know.
Post Holdings revises EBITDA guidance
Post Holdings revised its full-year EBITDA guidance following the acquisition of Bob Evans Farms as it reported first-quarter results.
– Sales rise 14.7% in quarter ended 31 December to US$1.4bn
– Operating profit up 116% at $164.5m
– Adjusted EBITDA climbs 22.4% to $281.6m
After its acquisition of Bob Evans Farms, announced last year and completed in January, Post Holdings raised its "annual run-rate cost synergies to $35-$40m by fiscal year 2020", up from $25m previously.
Post updated its fiscal year 2018 adjusted EBITDA (non-GAAP) guidance range to $1.22-$1.25bn, inclusive of Bob Evans.
By division:
– First-quarter sales at Post Consumer Brands rise 1.9% to $456m
– Weetabix (acquired in 2017) books sales of $99.7m
– Michael Foods sales climb 6.9% to $577m
– Active Nutrition up 20.9% at $186m
– Private Label increases 4.9% to $114m
Hershey estimates Amplify boost – but Q4 profit miss hits shares
US confectionery group Hershey expects its recent acquisition of Amplify Snack Brands to add five percentage points to its sales growth next year after reporting a 1% increase for 2017 today (1 February).
Hershey predicts sales growth in the region of 5-7% next year, reflecting the purchase of Amplify Snack Brands made in December, and organic growth of about 2%.
However, Hershey's adjusted earnings in the fourth quarter of 2017 missed analyst estimates. Its fourth-quarter sales were also down. At 17:35 ET, Hershey's shares had dropped 5.6% on the day to US$104.19.
For the year to 31 December:
– Net sales up 1% at $7.52bn
– North American sales rise 1.3% to $6.62bn
– International and other division books 1.4% drop to $894.2m
– Operating profit climbs 5% to $1.27bn
– Net income up 8.8% at $783m
For the fourth quarter:
– Net sales down 1.6% at $1.94bn
– North America net sales down 0.9%
– International and "other" sales 5.4% lower
– Operating income of $328.3m, versus $229.5m
– Net income of $181.1m, against $116.9m
– Adjusted net income of $218.1m – or $1.03 per share diluted – compared to $249.7m – or $1.17 a share – in Q4 2016
Sanford Bernstein analyst Alexia Howard said: "Hershey's fourth-quarter results disappointed; 2018 guidance fairly muted although earnings per share will benefit from low tax rate. A key question from here is how Hershey plans to turn around its performance in U.S. chocolate, having experienced share losses due to Mars' launch of Caramel M&Ms, and the potential margin implications if Hershey expects to invest more in pricing or packaging."
Unilever's foods and refreshments beat overall sales growth
Full-year sales at Unilever's foods and refreshment division, which was recently merged into a single unit, grew faster in 2017 than overall sales in a year the Anglo-Dutch consumer goods giant described as "challenging".
– Total group turnover rises 1.9% to EUR53.7bn (US$66.7bn) – underlying sales growth (USG) 3.1%
– Food and refreshments books revenue of EUR22.4bn – USG up 2.7%
– Total operating profit climbs 17% to EUR6.49bn
– Net profit increases 13.6% to EUR8.86bn
*Unilever sold its spreads business in December. Excluding that division results came in at:
– Turnover climbs 2.2% to EUR50.7bn – USG up 3.5%
– Foods and refreshments EUR9.5bn – USG up 2.2%
CEO Paul Polman said he expects "another year of underlying sales growth in the 3-5% range, and an improvement in underlying operating margin and cash flow, that keeps us on track for the 2020 targets".
Andrew Wood, an analyst at Sanford Bernstein, said of the results: "For FY 2017, Unilever delivered reasonable +3.1% organic growth (including progress in H2 over H1), strong +110 basis points, underlying margin growth, good +11% underlying EPS growth and good free cash flow growth (+13% to EUR5.4bn) despite a tough compare. Overall, we consider this a quality performance in the first full year reporting since the Kraft-Heinz approach in February. Unilever gave solid fiscal year 2018 organic growth guidance of 3-5% organic, with margin growth 'on track for the 2020 targets', (which implies about 80-90bps per year from 17.5% to 20%)."
Saputo reports pressure on underlying profits in Q3
Canada-based dairy group Saputo has booked lower third-quarter underlying earnings as pressure on profits in the US weighed on the business.
Saputo cited "market factors in the US" for the fall in adjusted EBITDA n the three months to the end of December, which in turn led to adjusted net earnings falling year-on-year. It also pointed to higher administrative expenses, mainly due to an Enterprise Resource Planning initiative, as well as rising warehousing and logistical costs.
Third-quarter revenues rose, though at a slower pace than in the first half
For the third quarter to 31 December:
– Consolidated revenues up 1.9% at CAD3.02bn
– Adjusted EBITDA down 8.3% at CAD346.6m
– Adjusted net earnings reach CAD183.2m, versus CAD197.4m a year earlier
– Net earnings up 70.7% at CAD337m
For the nine months to 31 December:
– Revenues of CAD8.8bn, 4.2% higher
– Adjusted EBIDTA dips 0.2% to CAD1bn
– Adjusted net earnings of CAD568.9m, against CAD565.9m
– Net earnings 27.7% higher at CAD722.5m
TD Securities analyst Michael van Aelst said: "We lowered our near-term expectations on January 3 based on the deteriorating commodity market, though did not anticipate such a big hit in the US. Until the conference call, it is impossible to know if there were any other temporary items that affected US results as was the case in several recent quarters. US results have definitely been much more volatile than usual over the past year."
31 January
Mondelez FY sales dip but sees pick-up in Q4
US-based snacks giant Mondelez International has reported a slight decline in annual sales but saw growth in the last three months of 2017.
A cyber attack last summer hit sales at the Cadbury and Oreo owner to the tune of US$100m.
However, Mondelez booked rising annual profits and posted fourth-quarter profits that beat analyst estimates.
For 2018, the company expects organic net revenue to increase 1-2%.
For the year to 31 December:
– Net revenues down 0.1% at $25.9bn. Organic net revenue up 0.9%
– Operating income of $3.51bn, versus $2.57bn in 2016
– Adjusted operating income of $4.18bn, up 9.9%
– Net earnings of $2.92bn, compared to $1.66bn
For the fourth quarter:
– Net revenues increased 2.9% to $7bn. Organic net revenue up 2.4%, including positive impact of around 60 basis points from lapping demonetisation in India in late 2016
– Operating income of $844m, vs. $507m
– Adjusted operating income of $1.11bn, up 19.8%
– Net earnings of $819m, compared to $93m
Industrias Bachoco books "record" performance
Mexican poultry group Industrias Bachoco, which has operations in the US, booked "record" financial results across the board in 2017, mainly due to higher volumes and higher poultry prices.
– Sales in the year to 31 December rise 11.6% to MXN58.05bn (US$3.12bn)
– Mexico delivers 7.6% increase to MXN41.52bn, while US sales climb 23% to MXN16.53bn
– By division, poultry sales rise 12% to MXN52.48bn, and other categories climb 7.9% to MXN5.58bn
– EBITDA up 9.4% at MXN6.32bn for a margin of 10.9% versus 11.1% a year earlier
Cranswick upbeat on Q3 revenues after "strong" Christmas period
UK food group Cranswick said in a third-quarter trading update that revenue is expected to be up on the previous year, marked by a "strong performance" over the Christmas period.
Each of the group's categories delivered positive volume growth in the three months to 31 December, while total export sales were also "well ahead".
UK pig prices continued to ease during the quarter, resulting in a similar price level to a year earlier.
Cranswick said it is investing at "record" levels to boost capacity: Construction of its new Continental Products facility in Bury, Lancashire, is expected to be completed in the first half of the next financial year.

Meanwhile, plans for a new primary poultry facility in Eye, Suffolk, continue to be developed, with construction, subject to receiving planning approval in the coming weeks, expected to begin in quarter one of the next financial year.