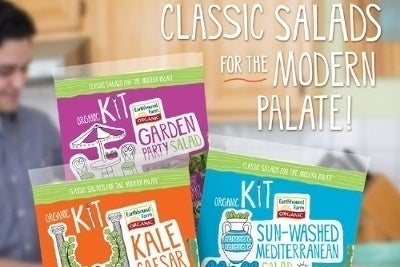 US organic produce company Earthbound Farm, owned by WhiteWave Foods, is adding to its ready-to-eat salad range.
Earthbound is launching three organic ready-to-eat salads – Kale Caesar, Sun-Washed Mediterranean and Garden Party – as well as an organic Kale Caesar PowerMeal Bowl.
"Quick, convenient and simple meals should not be boring. Food boredom can lead to overeating or wanting a treat after the meal," said Ashley Koff, registered dietitian for Earthbound Farm. "The new Earthbound Farm organic salad kits are anything but boring – they are a perfect marriage of convenient, delicious and nutritious – the three things I look for in meals and snacks. Their new organic Kale Caesar PowerMeal Bowl is packed with a variety of important nutrients from plants that anyone can quickly assemble for a tasty main meal. It's perfect for a lunch on the go, an outdoor adventure or a picnic."
Earthbound Farm's salad kits are available now with a SRP of US$4.99-$5.99. Each kit offers two and a half to three servings, the company said.
Earthbound Farm's PowerMeal Bowls have an SRP of $4.99. All bowls range from 200-300 calories with 5-10 grams of protein per bowl.