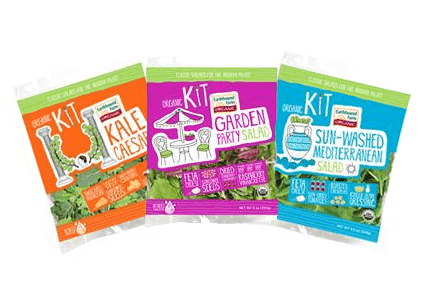 WhiteWave Foods' US organic produce arm Earthbound Farms has launched a range of salad kits, targeting growing demand for tender leaf products.
Samantha Cabaluna, vice president of marketing communications at Earthbound Farm, said sales of salad kits and of organic tender leaf salads were on the rise in the US as consumers moved away from products containing romaine or iceberg lettuce.
"According to Nielsen Total US Food, [for the] 52 weeks ending 1 March, sales of organic tender leaf salads – not kits – are growing at 17.6% while chopped romaine and chopped iceberg salads are declining 4.2% and 4.9% overall and at much higher levels for organic," she said. "Salad kit sales are growing 33.4% overall and a whopping 112.2% in organic."
Earthbound Farm has launched a line of three salad kits – kale caesar, sun-washed mediterranean and garden party. The garden party salad, for example, contains Asian greens with dried wild blueberries and cranberries, feta cheese and a raspberry-balsamic vinaigrette. All topping ingredients are packed individually in "to preserve freshness", Earthbound Farm said.
They are sold in 9-10 ounce bags with suggested retail prices of US$4.99-5.99.
"All of our consumer research shows that people who choose organic tend to be people who are more involved with food overall. They want better food, fresher food, more nutrient-dense food, more flavourful food and they still would love for all that to be convenient, too. But it's no surprise that they're not gravitating to the typical salad kits, which are based on chopped romaine with toppings that you wouldn't call restaurant quality," Cabaluna added.