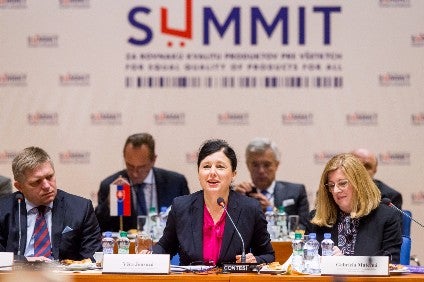 The prime ministers of the four Eastern European countries at the centre of the food products dual standards row have met with EU Commissioners at a summit in Bratislava.
The leaders of the so-called Visegrad group of countries – Czech Republic, Slovakia, Poland and Hungary – met with Vera Jourová, the European Commissioner for Justice, Consumers and Gender Equality, as well as Vytenis Andriukaitis, the Commissioner for Health and Food Safety, on Friday (13 October) in the Slovakian capital.
EU member countries from the former Communist Bloc in Eastern Europe have complained for some time about poorer quality food items being sold in their markets by western companies – often the same brands and products sold in higher quality versions in western Europe.
The European Commission has expressed sympathy with the complaints but has yet to make, or suggest, legislative changes to outlaw such practices.
Instead, it has introduced guidelines on the implementation of existing EU consumer law in dual standards cases.
Friday's summit – entitled For Equal Quality Of Products For All – was intended to present the Commission's work against unfair practices in the single market which also includes creating a "methodology to improve food products testing".
Ahead of the summit, Jourová said: "My main goal for the Bratislava summit is to give what the Commission promised – to help the national authorities to deal with a problem of dual standards of food. It is time to put an end to this practice. Our single market is not a double-standards market."
Polish Prime Minister Beata Szydblo said at the meeting: "Deliberate discrimination against consumers based on their country of origin is unacceptable and we have the right to expect the equal treatment we deserve from other partners in the EU, including EU institutions. We have welcomed a European Commission decision to start work on clarifying the problem of two standards in food quality."
Czech Prime Minister Bohuslav Sobotka reiterated calls for a change in law.
"The current EU law does not allow for proper prosecution of misleading practice. We need to amend it," he said.
A number of western food companies that have become embroiled in the dual standards row have taken unilateral action to deal with the problem.
German cookie and biscuit maker Bahlsen has moved to unify its production standards in Europe while Swiss-headquartered baby food firm Hipp is to relaunch one of its products in Croatia.