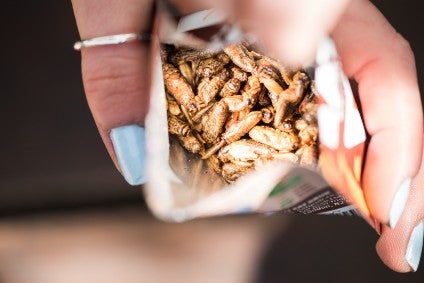 Eat Grub, a UK-based edible insects supplier, has said it lost out on some new market opportunities in Europe due to the machinations around Brexit but the company is focused on making new inroads in Germany.
Neil Whippey, Eat Grub's co-founder, told just-food the Brexit deal between the UK and the EU was "absolutely not good at all" for the company, which produces energy protein bars, powders and raw ingredients made from crickets, grasshoppers, mealworms and buffalo worms.
"Our market has currently been shrunk. There are work arounds – you can set up a business in the EU and have all your operations duplicated – b ut for innovative ideas where you look to have one base and a wide market, it's put in an awful lot of barriers," Whippey says.
The agreement struck between the UK and the EU meant trade free from tariffs but swathes of the food industry have complained of the non-tariff barriers that have emerged.
Before Brexit, and now Covid-19, Eat Grub was eyeing new opportunities in Europe to add to its existing presence in the Netherlands, Finland and Germany, a market that Whippey says is now "quite high" on the company's agenda.
He added: "The last year has been challenging from March onwards. We did a huge contract with Lidl in Germany that went really well. That gives an indication there's a level of interest. At the time, in Europe, with the uncertainty of Brexit, [it] did see us lose out on some opportunities, that's certain, but at the same time it was understandable.
"But now the legislation is clear again, then we don't see why we would be over looked to be back on the table for opportunities. The cost of bringing insect-based material into Europe, whilst it does have to go through customs, there isn't any real additional costs that would inhibit a major retailer from stocking this type of product, compared to a European competitor.
"We have looked at the Czech Republic, there's been a bit of interest in Poland but, for us, trying to capitalise on the German market is quite high on our agenda."
Covid-19 has been disruptive too, particularly on sales through hospitality. Eat Grub has a listing with UK retailer Sainsbury's but it also does business with museums, such as the Wellcome Collection in London, and entertainment establishments such as the Eden Project in Cornwall, south-west England, all of which have closed under government-imposed restrictions.
However, sales through e-commerce – the company also operates a direct-to-consumer platform – have had "the strongest year online than we've ever done", Whippey says.
For the year ahead, "it's getting ourselves back on an even keel trading with Europe properly again following Brexit. You need to let the dust settle on that, capitalise on our growing UK online market and look to grow our retail offering in Europe," Whippey explains.
From the just-food archive, a 2019 interview with co-founder Shami Radia: "The timing for edible insects could not be better"