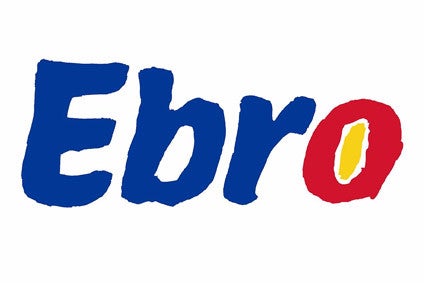 Spain-based rice and pasta supplier Ebro Foods saw its profits rise in 2016 despite flat sales.
Ebro booked net turnover of EUR2.46bn (US$2.6bn) for 2016, level with that generated in 2015 and which the company said "remained more or less on a par with last year, checked by the slight fall in the price of raw materials".
EBIT was up 8.5% at EUR267.3m. Net profit rose 17.2% to EUR169.7m.
Meanwhile, net debt edged up 4% year-on-year to EUR443.2m as of 31 December. Ebro said the figure "includes the numerous investments in the company's organic growth during 2016 and the acquisitions of Celnat and Harinas Santa Rita". "This gives a debt-to-equity ratio of 1.29, a very comfortable financial position to continue growing," the company said.
Ebro said the "very positive year was marked by intense organic and inorganic growth", expanded and optimised industrial capacity "and intense work in the areas of innovation, commercial and marketing".
Of its core business, Ebro said the rice division "achieved very satisfactory results, underpinned by the commodity price stability and the good performance of its subsidiaries, which launched over 82 new products, especially in the healthy foods segment".
On pasta, while "the quality of harvests dropped in both Europe and North America, raw material prices were not excessively unstable", Ebro said.
In Europe, "against a backdrop of tough competition and barely any growth", Ebro said its Panzani brand "managed to increase its market shares in both volume and value, boosted by the success of its dry pasta with fresh-pasta quality, innovations in the fresh pasta segment and major organic growth".
Garofalo, the Italian pasta maker in which Ebro acquired a majority stake in 2014, "closed a highly satisfactory year, consolidating its benchmark position in premium pasta", the company said.
Meanwhile, "sales are starting to rise in the North American market, thanks to the stabilisation of the market, the work done in the health and wellness category and heavy investment in advertising".
Ebro said its key achievements of 2016 included expanding its business in India, Thailand and France, establishing EbroFrost in the UK to develop its frozen foods business in the country and selling its Puerto Rico rice business.
In January, Ebro snapped up local organic business Vegetalia from the Barcelona-based business' founding shareholder Salvador Sala Druguet.