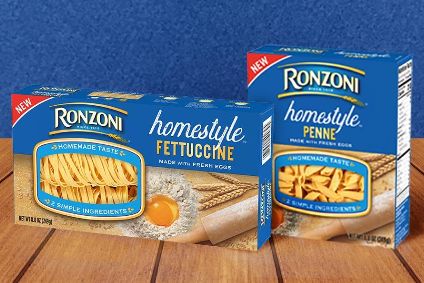 Spanish food group Ebro Foods is considering offloading another brand, following the sale of pasta assets in the US and Canada in the last five months.
Ebro said yesterday (25 February) it is "evaluating the option" of selling its Ronzoni pasta brand, which, the company added, "has seen a great deal of interest from potential buyers".
In November, Ebro announced a deal to sell a clutch of pasta brands in the US, Prince, Creamette and Skinner, to local manufacturer TreeHouse Foods. A week earlier, Ebro said it agreed to offload its Catelli dried pasta business in Canada to Italian counterpart Barilla.
With those transactions, Ebro was to be left with assets including the Ronzoni brand and facilities in Winchester, Virginia, as well as in Fresno in California.
Ebro's brief statement on Ronzoni came alongside the company's 2020 financial results, which included a 15% rise in sales and its net profit growing by more than a third.
In 2020, Ebro's group net sales rose 15.1% to EUR3.24bn (US$3.93bn), with the company pointing to "the strong performance of our businesses during the [Covid-19] pandemic".
Ebro's net profit was up 35.7% at EUR192.4m, in part helped by proceeds from the sale of assets in North America.
Sales from the group's continuing pasta business increased 14.5% to EUR1.5bn in 2020. Rice sales were up 16.1% at EUR1.82bn.