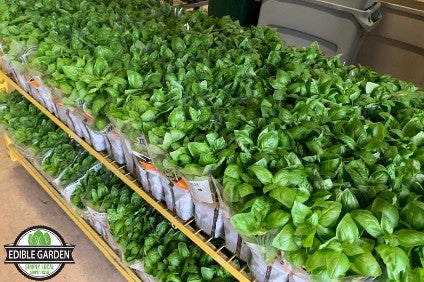 Edible Garden, a privately-owned US producer of organic fresh herbs and lettuce, plans to purchase a second facility after securing new listings with retailers Walmart and Meijer.
The company, which cultivates a full range of herbs and lettuce grown in greenhouses using hydroponic technology, said it has signed a letter of intent to acquire the site in Piqua, Ohio. It did not reveal the purchase price or the seller in a statement.
The family-run business was founded in 1973 as a garden centre before taking its current form in 1997, when it purchased Edible Garden's existing farm operation in Belvidere, New Jersey. It now grows potted and cut herbs such as basil, bay leaf and thyme, as well as lettuce, all free-from pesticides and herbicides.
CEO Jim Kras said: "This acquisition aligns our facility with recent distribution wins at retailers including Meijer and Walmart, allowing us to supply fresh produce throughout the Midwest. This agreement is a great opportunity to build on our mission of Zero-Waste Inspired farming, food safety, traceability, and the reduction of food miles."
Edible Garden's Piqua site will employ the company's sustainability software GreenThumb, which will increase cultivation capacity, it said.
As well as the new listings in Walmart and Meijer, the herbs and lettuce are available in US retailers Kroger, Target, Wakefern/ShopRite, Hannaford, Sweetgreen, Weis and Hmar.