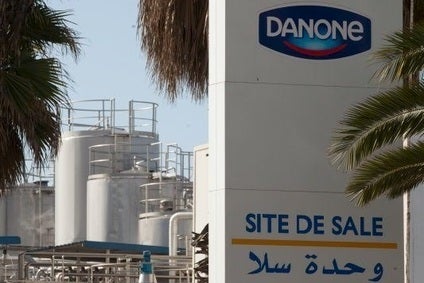 just-food secured time with Premier Foods CEO Gavin Darby this week after the UK group announced its first-half results, numbers that underlined the difficulty the company is having in growing sales. In a week of companies reporting its half-year numbers, Danone saw sales and profits fall but it stuck to its full-year targets, Unilever said innovation would help its food arm in slow-growth mature markets and Hershey claimed NPD would drive its business in the longer term, even if its recent price hike hits demand in the coming months.
The just-food interview part one: Premier Foods CEO Gavin Darby
Premier Foods plc is emerging from the long shadow of its debt burden with a new refinancing package and a clear mandate to grow its categories and brands. But, in the tough UK operating environment, growth is proving hard to come by. Premier CEO Gavin Darby speaks to just-food about balancing the need to invest in Premier's stable of well-known brands – as well as some of the more neglected areas of its business – while also managing a fragile balance sheet.
Interview: Bell Group CFO hits out at sausage cartel ruling
In a story that grabbed the headlines worldwide, 21 companies and 33 individuals in Germany have been hit with fines totalling EUR338m for allegedly fixing the price of one of the country's staples – sausages. Companies including Nestle, Bell Group and Zur Muhlen Gruppe, Germany's largest sausage maker, were handed fines. Some will appeal, including Bell Group, the Switzerland-based meat products group. Bell CFO Martin Gysin told Dean Best why the company believes it should not be penalised.
On the move: What's in store from Tesco's new CEO?
Tesco CEO Philip Clarke is to step down from the UK retailer, with the announcement made this morning (21 July) alongside another profit warning. Clarke will be replaced by Unilever executive Dave Lewis in October. While investors have responded positively to the news, manufacturers doing business in the UK may be waiting with baited breath to see if Lewis will respond to Tesco's strategic problems by extending its price focus. Katy Askew reports.
In the spotlight: Progress but Campbell faces critical questions
Campbell Soup Co., the US-based food group, is a business that has, in recent years, attempted to reshape its portfolio more towards faster-growing categories. And, with growth from its core operations still below the company's targets, the signs are it is ready to take more action. However, with further expansion comes choices, Dean Best writes.
On the money: Steady as she goes as Danone denies strategy overhaul
French dairy giant Danone has insisted it is not mulling a radical overhaul of strategy as it battles issues at its European dairy and Asian early life nutrition businesses.
On the money: Unilever NPD shifting food into category growth spots
Unilever hopes to rejuvenate its lacklustre food sales in developed markets by using innovation to move its brands into the growth spots of its mature categories.
On the money: Hershey CEO: NPD pipeline will offset pricing volume drag
Hershey has expressed confidence its planned innovation pipeline will deliver growth in the longer term, even if its latest price increase may hit volumes initially.
CANADA/US: M&A-hungry dairy co-op Agropur in Davisco deal
Acquisitive Canadian dairy co-op Agropur has pounced again, with a deal for Davisco Foods International's dairy-processing assets in the US, Europe and China.
Focus: Sticky issues remain in EU-US free trade talks
European food manufacturers welcomed progress on a transatlantic free trade deal at a meeting of negotiators and business leaders in Brussels last week. However, EU and US food manufacturers also took the opportunity to highlight a number of sticking points – from US non-tariff barriers to EU geographical indications. Andrew Byrne reports.
On the money: Bimbo forecasts US volume recovery
Bakery giant Grupo Bimbo, after seeing underlying sales volumes in the US come under pressure during the first six months of the year, has predicted improvement in the second half.