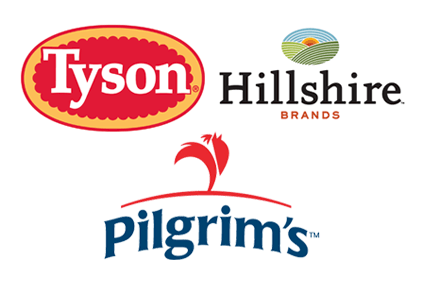 US meats group Hillshire Brands has this week turned from hunter to hunted. With its offer for Pinnacle Foods on the table, the Jimmy Dean sausages maker is the subject of two takeover bids from JBS-backed Pilgrim's Pride and then Tyson Foods, looking to boost their meat empires with higher-margin products. Elsewhere, Sweden-based confectioner Cloetta snapped up Ireland's The Jelly Bean Factory, Nestle and Fonterra revamped their venture in South America and R&R Ice Cream bought Australia's Peters Food Group. Click on the headlines for more.
Focus: Tyson raises the stakes in Hillshire bidding war
Tyson Foods entered the fray today (29 May) when it issued a fresh bid for Hillshire Brands, trumping an earlier offer from Pilgrim's Pride. Like Pilgrim's, Tyson stressed the strategic merits of taking control of the Jimmy Dean-to-State Fair meats manufacturer. Tyson is clearly prepared to pay a premium price for Hillshire – but will another bid be forthcoming? Katy Askew reports.
UPDATE: SWEDEN: Cloetta to expand Jelly Bean Factory in Europe
Cloetta plans to drive sales of The Jelly Bean Factory by feeding products into six European markets, the Sweden-based confectioner said today (28 May) after its acquisition of the brand's owner Aran Candy.
Comment: Pork DNA in halal Cadbury chocolate could undermine trust
Malaysian government tests are said to have detected the presence of pig DNA in batches of Cadbury chocolates. Facing such strong allegations – and widespread outrage amongst much of the Muslim population in Malaysia – the reputation of the Cadbury brand will be affected. Finding out how any contamination occurred and tightening its supply chain will be key for Mondelez International as it works to rebuild trust.
SOUTH AMERICA: Nestle, Fonterra reduce JV presence
Nestle and Fonterra have announced the realignment of their joint venture Dairy Partners America, which will see the joint business pull back from various Latin American markets and continue to operate in Brazil alone.
AUSTRALIA: R&R Ice Cream acquires Peters Food Group
European private-label ice cream manufacturer R&R Ice Cream has acquired Australian consumer business Peters Food Group for an undisclosed sum.
Focus: EU food sector unites in joint sustainability declaration
Agricultural, manufacturing and retail partners within the European food sector have collaborated in a joint declaration of some 32 sustainability policy recommendations for European lawmakers. Ben Cooper reports.
Consuming issues: Why understanding food wastage is vital
Food wastage and food waste are not the same thing, and food loss is again something different. Food waste is the primary contributor to food wastage in developed markets – but food loss is far higher in middle-income countries and highest in developing countries. And with large-scale global food companies buying from smallholders, new research into food loss will be key to many major industry players, writes Ben Cooper.
EUROPE: Wrigley rolling out stevia-based Extra Mints in Europe
Wrigley, the gum unit of Mars Inc, plans to roll out stevia-based Extra Professional Mints throughout Europe in 2014.