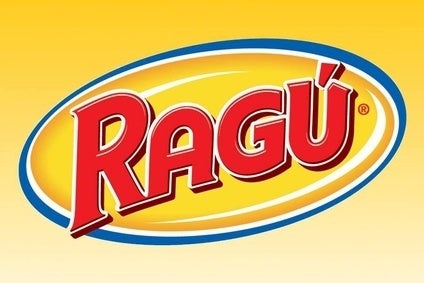 Japan's Mizkan Group got out the chequebook again this week, with the acquisition of Unilever's North American pasta sauces business. The deal followed its 2012 purchases of brands including Branston and Haywards from Premier Foods in the UK. Elsewhere, we ran interviews with the CEOs of UK pork processor and dairy group Adams Foods. Click on the headlines for more.
In the spotlight: Mizkan furthers global ambitions with Ragu, Bertolli buy
Japanese condiments maker Mizkan Group has set out a clear growth agenda to grow overseas sales and globalise its operations in order to offset soft domestic consumption patterns. The company announced today (22 May) it has struck a deal to acquire the Ragu and Bertolli in North America from Unilever. While the move strengthens Mizkan's presence in North America, operating in the US pasta sauce category is not without its challenges. Katy Askew reports.
The just-food interview part one: Relevance key to Cranswick's UK growth
UK pork processor Cranswick has grown sales over the past year through some significant contract wins and adjustments to its product mix. The company has also successfully negotiated higher prices despite weak economic sentiment and fierce competition between the country's largest retailers. One of the keys to Cranswick's success has been innovation to keep its product portfolio relevant, CEO Adam Couch told just-food in part one of the just-food interview.
Interview: Adams Foods' rise as force in UK cheese
From a "sleeping giant" losing money to a "sustainable, good business", Adams Foods CEO Ian Toal says the UK arm of The Irish Dairy has made significant progress since he joined the business in 2011. What has driven the business? And how does it plan to grow further. Dean Best met Toal to find out.
Quote, unquote: Food companies refute Oxfam climate change criticism
Oxfam International today (20 May) called on ten of the world's largest food and drinks companies – including Associated British Foods, Danone, General Mills, Kellogg, Mars, Mondelez International, Nestle, PepsiCo and Unilever – to take more decisive action on climate change. According to the charity, as an industry to which climate change represents a "major threat", the food sector should take a leadership role in addressing issues such as carbon emissions and deforestation. Companies who have responded to the criticism have largely insisted that they are already doing what they can. Here are some highlights from the debate.
Nestle has confirmed it is working with the Saudi Arabian government to tackle the issue of "price discrepancies" among infant formula manufacturers.
China's Bright Food, which owns a controlling interest in UK cereal maker Weetabix, has confirmed the acquisition of a majority stake in Israeli food company Tnuva.
Campbell Soup
Co. has cut its forecast for annual revenue after US soup sales missed expectations.
JBS
, the Brazil-based meat giant, has started the process of listing domestic arm JBS Foods.
French dairy co-operative Laïta has announced heavy investment in increasing production capacity for baby and premium milk as it seeks to tap international markets.