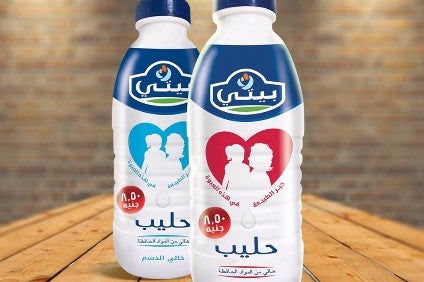 Egyptian dairy business Beyti is to get a US$44m loan from the European development bank EBRD to fund new investments and refinance debt.
Beyti, known as the International Company for Agricultural Industries Projects, is one of the largest producers of milk, juice and yoghurt in Egypt and runs a production site in Cairo employing over 3,000 people.
The company will use the funds to expand production and logistics to meet rising consumer demand in Egypt for dairy products and juices, the European Bank for Reconstruction and Development (EBRD) said in a statement.
The loan, which could be in US dollars or local currency, is made up of a "committed" portion amounting to EGP150m (US$8.4m), and an uncommitted tranche for as mush as $35.5m, or the equivalent in Egyptian pounds.
Some of the funds will be used to refinance short-term loans in favour of longer-dated instruments.
Beyti is 52%-owned by Saudi Arabia-based consumer foods producer Almarai, while US food and drinks giant PepsiCo owns another 42%.
Mohamed Badran, chief executive of Beyti, said: "We are very happy with our agreement with the EBRD that will create new opportunities for our business. Partnering with a financial institution that puts such focus on promoting environmentally and socially sound and sustainable development is of added value to any business."
EBRD's investment will also help Beyti increase production of raw milk and fruit concentrate at local dairy farms and juice concentrate manufacturers. The funds will also provide a means to enhance its distribution capabilities.
Tarek El Sherbini, EBRD's head of agribusiness for the southern and eastern Mediterranean region, said: "We are extremely pleased with the signing of our first project with Beyti and with two major international shareholders, Almarai Company and Pepsico. We look forward to increasing strategic cooperation in Egypt and other common countries of operations."