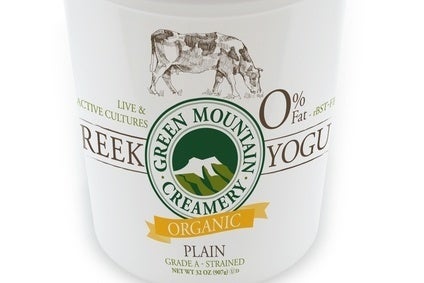 A venture between German dairy group Ehrmann and US firm Commonwealth Yogurt is to expand its range of Greek yoghurt products.
Ehrmann Commonwealth Dairy is rolling out an organic line and a range of single-serve, organic, fruit-on-the-side flavours under its Green Mountain Creamery brand.
The organic line will hit Costco stores in San Francisco first before being distributed more widely. The venture also plans to launch a vanilla version.
The companies said the fruit-on-the-side yoghurts, set to be launched early next year, were "much lower in sugar than traditional fruit-on-the-bottom or blended Greek yoghurt".
Greek yoghurt has powered rising demand for yoghurt in the US in recent years, although growth in the segment is slowing.
Thomas Moffitt, CEO of Ehrmann Commonwealth Dairy, said the company had launched into the Greek yoghurt segment into the US in 2011. He told just-food the organic lines were being introduced "as a result of numerous consumer inquiries received over the past three years".
Ehrmann and Commonwealth Yoghurt formed the venture in 2010. The ownership structure of the venture is not publicly disclosed. The venture owns and operates dairy production plants in the US and has its own brand, Green Mountain Creamery.
The German firm also has a subsidiary, Ehrmann USA, which is a sales and marketing division responsible for the Ehrmann brands in the country.