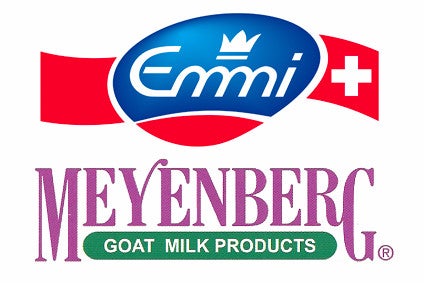 Swiss dairy Emmi has made a further acquisition in the goat's milk sector with the purchase of US-based family-owned business Jackson-Mitchell.
Jackson-Mitchell, which is also known as Meyenberg, distributes goat's milk and evaporated and powdered goat's milk throughout the US. Meyenberg products are primarily available through national supermarket chains. The group also sells its products online and through regional retailers and "speciality" businesses, Emmi noted.
Meyenberg employs 30 people across two production sites in Turlock, California and Yellville, Arkansas. The business generates annual sales of almost US$30m, Emmi said.
Emmi said the acquisition will augment its US goat's products business. The company first entered the sector in 2010 with the acquisition of California-based Cypress Grove. It has since expanded its operations via M&A with the purchases of Redwood Hill Farm & Creamery in the US, Bettinehoeve and AVH Dairy in the Netherlands alongside Spanish firm Lácteos Caprinos.
Emmi said the deal offers "opportunities in milk procurement" in particular. Meyenberg already works with Cypress Grove and Redwood Hill Farm & Creamery to bridge seasonal milk production, Emmi revealed.
Matthias Kunz, executive vice president for Emmi's business in the Americas, explained: "Goat's milk is in high demand and short supply in the US, but it is also a very challenging product as a result of its highly seasonal nature. We hope that Meyenberg's excellent relations with goat's milk farmers in California, Idaho, Kansas and Missouri will result in opportunities for both of our Californian goat's milk processors, Cypress Grove and Redwood Hill Farm & Creamery, and that we will be able to even better meet the growing demand for these products as a result."
Financial details of the transaction were not disclosed. However, MainFirst analyst Alain Oberhuber estimated Emmi was likely to have paid in the region of CHF32m (US$31.4m) for the business, assuming an EBITDA margin of around 12%. "Emmi's strategy is to pay around seven-to-nine times EBITDA for such smaller acquisitions. However, recently the acquisition multiples have risen. We assume that Emmi had to pay the upper end of this range, i.e. around 9 times," Oberhuber ?wrote in an investor note. "We conclude that the price paid is reasonable and Jackson-Mitchell fits well into Emmi's strategy to expand in goat cheese."