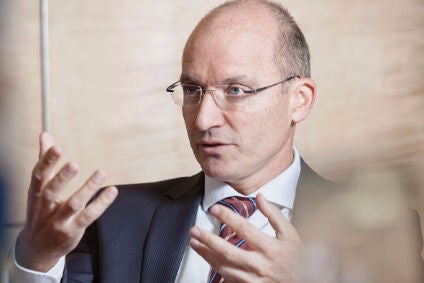 Emmi, the Switzerland-based dairy group, today (23 August) lowered its forecast for its annual underlying sales after reporting "disappointing" first-half revenues amid challenges facing its European business.
The owner of Onken yogurts and Caffè Latte chilled coffee saw its revenue inch up 0.4% to CHF1.6bn (US$1.65bn) in the first six months of 2017.
However, on an organic basis – adjusted for acquisitions and currency effects – Emmi's revenue dropped 1.3%.
In Emmi's European division, which covers markets including the Benelux, Germany, the UK and Italy, the company saw the "strain" from lower sales of A-27 desserts and the "currency situation". The company said weaker British pound versus the Swiss franc and euro negatively impacted Onken yogurts made in Germany, and the A-27 desserts in the UK. Sales in the division climbed 1.9% to CHF259m, but excluding currency and acquisition effects, dropped 2.1%.
Emmi is now forecasting sales from its European division will fall between 1% and 3% in 2017, down from its earlier estimate of sales being flat to up 2%.
The company is forecasting its group sales on an organic basis will be flat to down 1%, instead of the 1-2% growth it predicted in March.
Emmi's first-half net profit was up 8.6% at CHF66m for a margin to sales of 4.1% – which it attributed to the full takeover of Mittelland Molkerei – compared to 3.8% in the corresponding year-earlier period.
EBITDA rose 2.2% to CHF157m due to lower operating expenses. In contrast, EBIT dropped 2.2% mainly due to "additional goodwill amortisation " as a result of the acquistions made.
Going forward, Emmi said the second half will continue to be a challenge due to the difficult "economic situation" in countries such as the UK, Spain, Italy and France. It also noted increasing imports in the Swiss market and "restrained consumption" of dairy products.
CEO Urs Riedener said: "The half-year sales reflect the challenging economic environment, including a contracting retail business and increasing cheese imports in the business division Switzerland, while Brexit and modest cheese exports impacted on the business division Europe. However, many markets outside Europe performed reasonably well."
Emmi reported a 1.8% drop in Swiss sales to CHF838m, mainly due to a 1% contraction in dairy products within the retail segment and a 4.4% increase in cheese imports. The division accounted for 52% of group sales, down from 54%.
In Emmi's Americas division, which includes the US, Canada and Chile but also France, Tunisia and parts of its Spanish interests, sales rose 6.2% to CHF442m. Organic growth was 2.4%, below the company's 3% to 5% target.