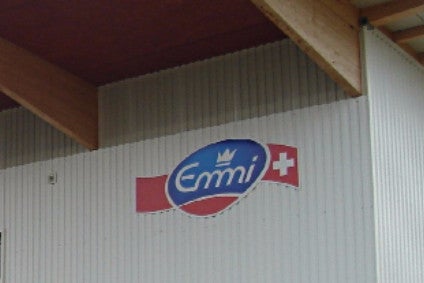 Emmi lowered its full-year sales forecast this morning (23 August) with the Swiss dairy group pointing to a "challenging economic environment", although the Caffe Latte owner upped its estimating for annual operating profit.
The company's shares rose in the wake of the new forecasts, which came alongside first-half results that included higher sales and earnings.
Emmi now expects its sales for 2016 to be in a range from a fall of 1% on 2015 to an increase of 1%. Emmi had previously forecast its 2016 sales would be flat year-on-year to up 1%.
The new forecast for annual sales came despite an increase in half-year revenue from CHF1.56bn (US$1.63bn) in the opening six months of 2015 to CHF1.59bn in the first half of this year. However, on an organic basis, which excludes the impact of exchange rates and M&A, Emmi's first-half sales declined 0.7%.
The company said so far in 2016, sales have been "strongly affected" by the "challenging situation" in the Swiss market, with domestic revenue in the firs half declining 2.4%. In the Americas, Emmi said its targeted growth of 5-7% for the full year was "too ambitious" due to low milk prices n the US and "difficult" economic conditions in Chile. In Europe, however, Emmi's top-line performance strengthened in the first half. European sales rose 10.2%, boosted by acquisitions and organic growth.
CEO Urs Riedener said: "The half-year sales reflect the challenging economic environment and the strong competition, with high milk volumes being one of the reasons."
However, Emmi said its first-half profits "exceeded" forecasts. EBIT increased from CHF84.4m to CHF92.5m in the period. Net profit rose to CHF60.8m, up 31.6%. The company said an "important reason" for this improvement was the lapping of negative currency effects last year due to the high Swiss franc in the first half of 2015. Emmi also implemented efficiency measures in Europe and the Americas and benefited from the contribution of recently acquired businesses.
"The profit development is the result of improved earnings abroad and the strong position in niches," Riedener added. "The international subsidiaries contributed again to the profit increase. A further earnings uplift resulted from the more recently acquired companies."
The company nudged up its forecast for annual operating profit, from CHF180-190m to CHF185-195m.
Shares in Emmi were up 4.63% at CHF655.50 at 10:29 CET.