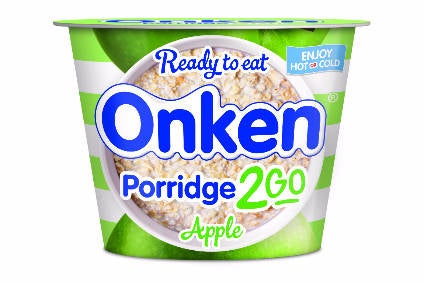 Swiss dairy group Emmi has launched a chilled porridge line under its yogurt brand Onken in the UK.
The company is rolling out Porridge2Go in a bid to what it said is demand for healthier breakfasts.
Laura Grove, head of marketing for Emmi's UK business, said: "We're always listening to consumer feedback, so we've created a product that taps into the trend for a healthy breakfast option for the food-to go shopper mission. We've developed a convenient breakfast product that is low in sugar with slow release energy, without compromising on taste. Onken Porridge2Go is a first to the market, and the chilled food-to-go fixture, with the ingredients already mixed and ready to enjoy – hot or cold."
The new product, available in a 150g single-serve format "with a simple combination of oats and semi-skimmed milk" is available in "classic" and apple flavours. Emmi said the porridge is "slightly sweetened and offers a healthier alternative to existing instant ambient porridge variants".
Onken Porridge2Go is available in Tesco stores at an RRP of GBP1.25 (US$1.57).
In an interview with just-food this summer, Emmi group CEO Urs Riedener revealed the company's plans to launch a porridge product in the UK and in Switzerland as part of its strategy of trying to grow sales of higher-margin lines.