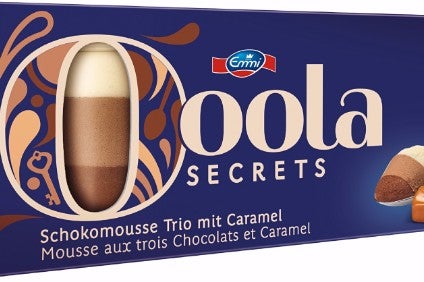 Switzerland-based dairy Emmi has launched its Ooola Secrets desserts range after spending "millions of Swiss francs" to install a dedicated production line.
The Swiss dairy company will produce the 60 gram pots at its second-largest facility in Emmen, Lucerne, and they will initially be available in Switzerland and Austria before expanding internationally. With less than 90 calories, Emmi said the desserts are perfectly in line with the general trend for a healthier, more balanced diet and are free from preservatives and alcohol.
Two Ooola Secrets SKUs are available from Swiss retailers. A third variety, Stracciatella Mousse with Lemon, is under development.
Earlier this month, Emmi launched two reduced sugar varieties of its YoQua protein yogurts to meet demand for more healthy foods.
After reporting "disappointing" first-half revenues in August, Emmi cut its forecast for underling sales, and said the second half would continue to be a challenge due to the difficult "economic situation" in countries such as the UK, Spain, Italy and France. It also noted increasing imports in the Swiss market and "restrained consumption" of dairy products.