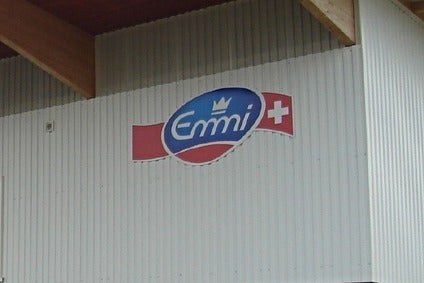 Swiss dairy firm Emmi said organic growth across all of its divisions highlighted that product initiatives in Switzerland are paying off – but analysts flagged concerns over the group's exposure to international and the drag that currency exchange is likely to represent moving into 2015.
During fiscal 2014 Emmi generated net sales of CHF3.4bn (US$3.68bn), an increase of 3.2% year-on-year. The company saw growth across all its operating units. Sales in Switzerland increased 1.3%, the Americas was up 2.7%, Europe rose 8.3% and global sales were up 13.2%.
Emmi's CEO Urs Riedener said the company performed "to plan" and "exceeded expectations" in Switzerland. "The encouraging growth in our domestic market is a clear sign that we are steering our product portfolio in the right direction, and that we have set our priorities well," he suggested.
However, Kepler Cheuvreux analysts highlighted that the company's export business accounted for 12% of sales "higher than we had anticipated".
"Emmi said it would take steps to offset the impact of the Franc's strength on its export business by increasing prices and taking other measures," analyst Jon Cox wrote. "We cut our rating to 'reduce' in the aftermath of the Swiss National Bank's decision to abandon the peg against the euro. We believe the market is underestimating the high price of milk locally versus international prices as well as the impact on margin from the franc's strength."
Emmi will report its full results for fiscal 2014 at the end of March.