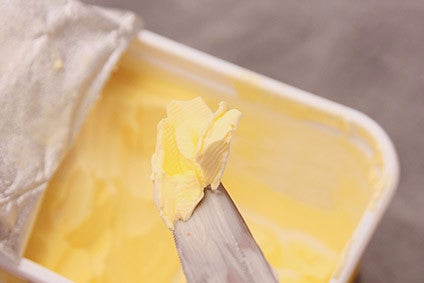 The European Court of Justice (ECJ) ruled today (14 June) purely plant-based products cannot be labelled as "milk", "cream", "butter", "cheese" or "yogurt" – even if the label states the item does not contain animal products.
The ruling followed a case brought by German competition watchdog, the Verband Sozialer Wettbewerb (VSW), against German vegetarian and vegan foods producer and distributor TofuTown.
TofuTown promotes and distributes purely plant-based products under the designations "Soyatoo Tofu butter", "Plant cheese", "Veggie Cheese", "Cream" and other similar designations.
The VSW brought an action against TofuTown in the German regional court of Trier claiming the firm's products infringed EU legislation on designations for milk and milk products.
However, TofuTown argued the way in which consumers understand those designations "has changed considerably in recent years". The company said it does not use designations such as "butter" or "cream" on their own, "but always in association with words referring to the plant origin of the products concerned, such as "tofu butter" or "rice spray cream".
The regional court referred the case to the ECJ, which said today products designated as milk, cream, butter, cheese and yogurt "are reserved by EU law for animal products".
"In principle, for the purposes of the marketing and advertising in question, the relevant legislation reserves the term milk only for milk of animal origin," the ECJ said. The addition of "descriptive or clarifying additions, indicating the plant origin of the product concerned, has no influence on that prohibition". The use of such descriptive or explanatory terms "cannot completely exclude the likelihood of confusion" among consumers, the ECJ said.
The ruling was welcomed by members of the dairy sector, including executives at European giant Arla Foods.
Milk comes out of a cow – not almonds, soy or oats. Glad to see new EU court ruling making that perfectly clear # https://t.co/l7zxFcoWix

— Jonas Søndergård (@J_Sondergard) June 15, 2017
The judgment left some industry watchers mulling what impact there could be on other free-from categories.
EU Court of Justice disallows using dairy names with plant-based products (eg. soy milk, nut butter). Vegan meat issues to follow, methinks!

— Dr. Food (@ProfDavidHughes) June 14, 2017