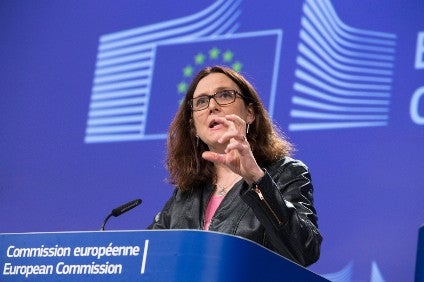 The European Commission today (7 March) put the US food manufacturing industry on notice it is prepared to impose safeguard duties on American food and drink exports, should President Donald Trump go ahead with his threat to saddle steel and aluminium imports with heavy tariffs.
EU Trade Commissioner Cecilia Malmström said "rebalancing" duties could be imposed on peanut butter, cranberries and orange juice, as well as Bourbon whisky. The Commission has drafted a full list of potential duty targets, which will be released for consultation, if Trump authorises the duties.
Speaking in Brussels, she argued such an action would be justified, because if President Trump authorises these metal duties, it would be done under a false pretext, and hence break global trading laws.
Trump is considering imposing 25% duties on steel and 10% duties on aluminium, on imports from all countries, arguing this will boost America's metal industry and hence create a reliable domestic metal production base to build up its military. World Trade Organization rules allow countries to protect their economies under national security grounds.
Malmström, however, said the justification for action does not hold water legally, because the EU would not stop exporting metal to the US to starve its defence manufacturers of materials. "We cannot see how the EU, friends and allies in NATO, can be a threat to international security in the USA," she said.
As a result, the metal duties were an "economic safeguard measure in disguise, not a national security measure", which means the EU can "use the WTO safeguard agreement to rebalance benefits that we have given to the US in the past", she argued.
Usually safeguard duties are imposed on all imports of a product, whatever the source, but one trade policy expert explained to just-food if the EU maintains the US duties are a disguised safeguard measure Brussels can claim the right to impose compensatory duties on different products, including food. Also, it can impose them on the US alone, under article 8 of the WTO safeguard agreement.
These measures could be taken – in theory – immediately but Malmström stressed EU industry associations would have the chance to comment on its planned duty list before it went into effect.
She also said the EU and other trading partners would also challenge the US duties at the WTO's dispute settlement body. However, if the EU bases its reaction on an assumption the US measures are a disguised safeguard measure, that interpretation could be challenged at the WTO. Any resolution of such disputes could take years, notably because the US has been blocking appointments to the WTO appellate body.