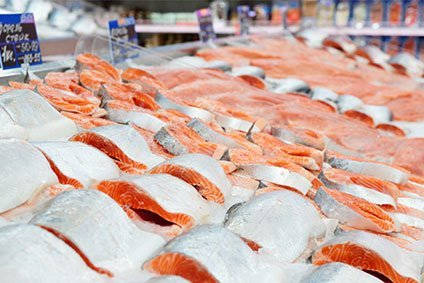 The European Commission has conducted inspections at "several" companies engaged in farming Atlantic salmon as it investigates potential price-fixing.
Unannounced inspections were carried out on Tuesday (19 February) in "several Member States at the premises of several companies in the sector of farmed Atlantic salmon", Brussels confirmed in a statement.
Norway-based Grieg Seafood acknowledged it was one of the companies targeted, with its plant in Shetland, Scotland, coming under scrutiny. Norway's Mowi, which previously traded as Marine Harvest, confirmed its facilities in Rosyth, Scotland, and Lemmer in the Netherlands were visited by inspectors, although the company said it saw no basis for the inspections.
SalMar, which is also located in Norway, said it received unannounced inspections at its joint-venture facility, Scottish Sea Farms.
However, the Commission stressed its inspections did not imply any of the salmon companies were guilty of "anti-competitive practises". The investigation was purely preliminary at this stage, it added.
"The Commission has concerns that the inspected companies may have violated EU antitrust rules that prohibit cartels and restrictive business practices – Article 101 of the Treaty on the Functioning of the European Union," according to the statement. "The Commission officials were accompanied by their counterparts from the relevant national competition authorities.
"The fact that the Commission carries out such inspections does not mean that the companies are guilty of anti-competitive behaviour, nor does it prejudge the outcome of the investigation itself. The Commission respects the rights of defence, in particular the right of companies to be heard in antitrust proceedings."
It is not clear how long the probe will continue, with the Commission indicating that depends on the "complexity of each case" and the level of cooperation from concerned parties.
Meanwhile, media speculation suggests the price-fixing allegations reportedly centre on Norway, according to a letter penned by the Commission based on information provided by a number of industry participants. just-food approached the Commission for comment but was referred back to their earlier statement.
A statement from Mowi read: "To our knowledge, there is no basis for the inspection by the Commission and the probe is surprising to us. Mowi will be transparent and cooperate with the Commission and provide all necessary information requested by them. This was a part of a larger operation involving several other Norwegian salmon companies."
Grieg Seafood issued its response after confirming EU inspectors visited the Shetland plant and offered complete cooperation with the investigation.
"Grieg Seafood aims to be open, transparent and forthcoming and will provide all necessary information requested by the European Commission DG Competition in its investigation," the company said in a statement. The seafood firm has two other facilities in Norway, located at Rogaland and Finnmark, along with a plant in British Columbia.
Meanwhile, Norway's SalMar said its Scottish Sea Farms business, a 50-50 joint venture with Leroy Seafood, was also visited for inspection by the EC's director general for competition.