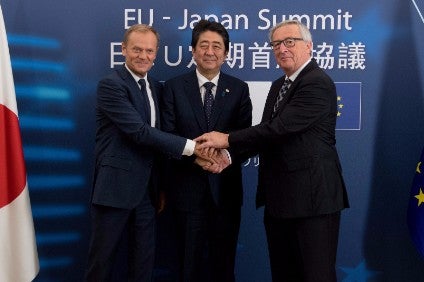 The EU and Japan today (7 December) announced they had finalised a deal on trade between the two markets, an agreement that looks set to open the Asian country to European agricultural exports.
In July, the two sides set out an agreement "in principle" but this afternoon EU Trade Commissioner Cecilia Malmström and Japanese Foreign Minister Taro Kono said the final discussions on the EU-Japan Economic Partnership Agreement had concluded successfully.
Since July, talks have continued on issues including settling on the final provisions for the protection of EU and Japanese Geographical Indications.
Malmström said: "The potential of this deal is enormous and I'm glad that the EU and Japan remain fully on course to sign it next year."
The EU has the deal would "remove the vast majority of the EUR1bn of duties paid annually" by its exporters to Japan, as well as "a number of long-standing regulatory barriers".
Looking at the impact on trade in agri-food products, the EU said duties on "many cheeses", including gouda and cheddar, would be eliminated.
A duty-free quota will be established for fresh cheeses such as mozzarella and feta.
The EU has secured reduced tariffs on its beef, while Brussels said there would be "almost duty-free trade" for fresh pork exports to Japan and "full
liberalisation" for processed meat.
FoodDrinkEurope, the industry body representing food and drink manufacturers in the EU, said it "welcomed" the conclusion of talks.
We welcome the finalisation of the EU #Japan EPA – significant opportunities for European food and drink exporters https://t.co/OxZssHrxax @MalmstromEU @PhilHoganEU @Trade_EU @EUAgri https://t.co/yMDrChkHBv

— FoodDrinkEurope (@FoodDrinkEU) December 8, 2017
In a joint statement, European Commission President Jean-Claude Juncker and Japan Prime Minister Shinzo Abe said: "This EPA will create a huge economic zone with 600 million people and approximately 30 percent of the world GDP, and it will open up tremendous trade and investment opportunities and will contribute to strengthening our economies and societies.
"We are confident that, once in place, this agreement will deliver sustainable and inclusive economic growth and spur job creation, while at the same time confirming our commitment to the highest level of labour, safety, environmental and consumer protection standards and fully safeguarding public services."
The EU said it is aiming for the agreement to come into force before the end of the current mandate of the European Commission in 2019.