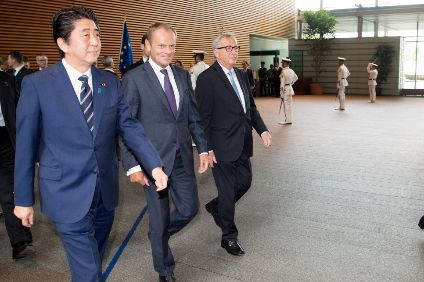 The EU and Japan today (17 July) announced they have formally signed a trade agreement between the two markets covering almost a third of the world's GDP.
The deal, struck in December, was signed at a summit in Tokyo today by Japanese Prime Minister Shinzo Abe, European Council President Donald Tusk and European Commission President Jean-Claude Juncker.
Before the agreement enters into force, it will need to be ratified by the European Parliament and the Japanese Diet. The EU said the deal could go live next year.
Juncker said: "The document we signed today is much more than a trade agreement. It is, of course, a tool that will create opportunities for our companies, our workers and our citizens and that will boost the European and Japanese economies."
The EU sought to outline the benefits to both sides' agricultural sectors. It said Japanese duties on cheeses including Gouda and Cheddar would be scrapped and pointed to the prospect of "duty-free trade in processed meat and almost duty-free trade for fresh meat".
More than 200 European agricultural products sold under Geographical Indications (GIs) would be protected in Japan, with similar mechanisms in place for "a selection of Japanese GIs in the EU", Brussels said.
Juncker's comments on the deal included what appeared to be references to the tensions between the world's major trading partners, with a number of disputes having emerged in the wake of Donald Trump becoming US President.
He described the deal as "a statement [in] its content, scope and timing", adding: "It is a statement by two like-minded partners that together represent nearly a third of the world's GDP and reiterate their commitment to uphold the highest standards in areas such as labour, safety, environmental or consumer protection. And what we're saying is that we believe in open, fair and rules-based trade. What we are saying is that a trade agreement is not a zero sum game, but a win-win for the involved parties. This agreement will bring tangible benefits to both sides and at the same time safeguard each other's sensitivities."