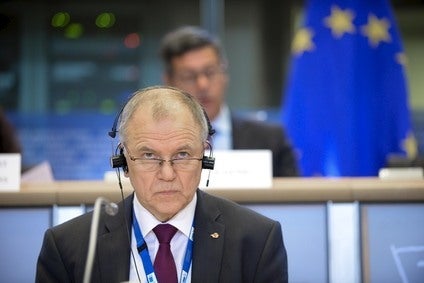 The EU's commissioner-designate for health and food safety Vytenis Andriukaitis, has promised members of the European Parliament he will oppose any attempt to lower the bloc's food safety standards as a consequence of agreeing a free trade deal with the US.
"As a doctor, my answer is no to any lowering of the EU safety standards, no to lowering of food safety or health standards," Andriukaitis, a physician and former health minister, said, noting European Commission president-elect Jean-Claude Juncker had also promised to resist such regulatory change. "I cannot make any compromise on this issue, whether it's hormones in meat or chlorine baths for chicken," he added.
Andriukaitis was speaking during his confirmation hearing at the European Parliament while the seventh round of negotiations for a Transatlantic Trade & Investment Partnership (TTIP) were unfolding in the US.
Meanwhile, Andriukaitis added he saw a need for a scheduled 2015 review of EU procedures used to assess health claims associated with foods.
UK MEP Julie Girling claimed manufacturers sometimes struggle with the regulations on nutrition and food health claims. "In many cases there is a strong body of evidence to support the claims, but the methods which the Commission and EFSA have adopted have meant those claims have been unsuccessful," Girling told Andriukaitis.
In response, Andriukaitis, said he would discuss the scope of the review with the Parliament, if confirmed in his five-year job, which would start in November.
Andriukaitis also told MEPs he wants to assess if Brussels can simplify EU food safety rules, while ensuring Europeans continue to "enjoy the safest food in the world".