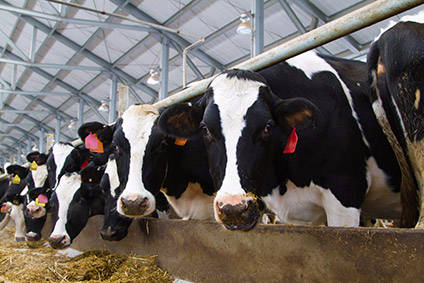 Members of the European Parliament have taken decisive action on the use of antibiotics on farms in an attempt to keep drug-resistant bacteria out of food.
MEPs have given the green light to a plan to curb their use.
It follows calls from bodies such as the World Health Organization for farmers and the food industry to stop using antibiotics to promote growth and prevent disease in healthy animals.
There is a fear resistance to such drugs could be passed on to humans through food.
The new law states veterinary medicines must not under any circumstances be used in an attempt to improve performance or compensate for poor animal husbandry.
It limits the use of antimicrobials as a preventive measure, in the absence of clinical signs of infection, to single animals and not groups. The drugs can only be used when fully justified by a veterinarian in cases where there is a high risk of infection.
Metaphylactic use (treating a group of animals when one shows signs of infection) should be a last resort, and only occur once a veterinarian has diagnosed infection and prescribed the antimicrobials.
The new ruling also means imported foodstuffs will have to meet EU standards and that antibiotics cannot be used to enhance the growth of animals.
French MEP Françoise Grossetête said: "This is a major step forward for public health. Beyond farmers or animal owners, the use of veterinary medicines concerns us all, because it has a direct impact on our environment and our food; in short, on our health.
"Thanks to this law, we will be able to reduce the consumption of antibiotics on livestock farms, an important source of resistance that is then transmitted to humans. Antibiotic resistance is a real sword of Damocles, threatening to send our healthcare system back to the Middle Ages."
Philip Lymbery, the CEO of UK-based campaign group Compassion in World Farming, welcomed the vote, taking to Twitter to call the result "a reason to celebrate".
BREAKING NEWS: A reason to celebrate! New legislation aimed at ending the overuse of antibiotics in farming has just been approved by the European Parliament. It means a ban on the mass medication of farm animals used to compensate for poor husbandry and welfare #factoryfarms pic.twitter.com/YL0qZ7oD4M

— Philip Lymbery (@philip_ciwf) October 25, 2018
However, Tim Lang, the Professor of Food Policy at City University in London, an academic who has voiced concerns about the UK food system after Brexit, raised a concern about what could happen to the country's policy on antibiotics after it leaves the bloc.
Agreed this is good news but remember US and other future trade 'partners' being lined up by Dr Fox aren't moving in this direction. It's taken 30 years to put animal welfare at the heart of EU policy. Now the cup is being dashed from our lips by Brexit. We must reverse or rue. https://t.co/EPTAVoLjwC

— Professor Tim Lang (@ProfTimLang) October 26, 2018
The vote now has to be formally ratified by the European Council and the European Commission.