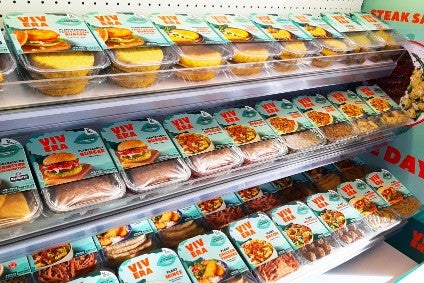 Horizon Europe, the European Union's funding programme, has launched a EUR32m (US$38.3m) fund for research into plant-based meat alternatives.
The body has just rolled out its R&D and innovation programme running from this year through 2027, with a total allocation of EUR95.5bn, and is the successor to Horizon 2020. It is based on Horizon's strategic plan "adopted" in March this year.
Within the 2027 programme, Horizon Europe has allocated EUR14.7bn for projects in 2021-2022, including the plant-based meat fund. Just Food has approached the European Commission for more details on the fund.
"These investments will help accelerate the green and digital transitions and will contribute to sustainable recovery from the coronavirus pandemic and to EU resilience against future crises," the European Commission said in a statement yesterday (16 June).
The European division of Washington-headquartered The Good Food Institute, a non-profit organisation promoting non-animal protein alternatives, said in a statement: "This is a strong signal that the EU is betting on sustainable proteins playing an important role in meeting its climate and biodiversity targets. National governments should take this as encouragement to invest in the research and infrastructure we need to advance plant-based and cultivated meat."
Horizon Europe is tasked with tacking climate change and works toward achieving the United Nations' sustainable development goals, with its programmes aimed at bolstering economic growth in the EU and ensuring the trading bloc's competitiveness.
Mariya Gabriel, the European Commissioner for Innovation, Research, Culture, Education and Youth, said: "With 40% of its budget devoted to making Europe more sustainable, this Horizon Europe work programme will make Europe greener and fitter for the digital transformation. Horizon Europe is now fully open for business."
Despite the known environmental benefits of alternative proteins, the EC said more research is needed "to obtain a comprehensive and up to date understanding of the environmental footprint and sustainability performance of alternatives".
It added: "There is also a need for further research on the positive and negative impacts of alternative-protein sources in European diets on human health (food allergies) and their bio-availability (along with other characteristics such as structure, colour, taste and flavour). It is presumed that a shift to alternative proteins should lead to healthier and overall more sustainable diets, but this depends on the nature of the shift (shifting from processed meat to another nutrient-poor, highly-processed protein source might not provide the desired health benefits)."