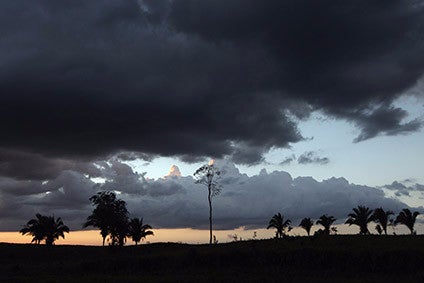 Up to a fifth of the European Union's soy imports from Brazil could originate from illegally deforested land, a new report from academics in the country suggests.
The study said up to 17% of beef imports are also linked to deforestation.
No specific companies have been mentioned in regard to the imports.
The study, published in the journal Science yesterday (16 July), looked at deforestation in Brazil's Amazon and in the bordering Cerrado savannah since 2008.
It revealed that 2% of properties in the Amazon and Cerrado are responsible for 62% of all potentially illegal deforestation.
News agency Reuters quoted report co-author Raoni Rajao, who specialises in environmental management at the Federal University of Minas Gerais, as saying: "Brazil has the means to develop a great government-led monitoring system that is able to clean supply chains of deforestation."
Reuters quoted a new report from the OECD and the United Nations' Food and Agriculture Organization, which said Brazil now produces a similar volume of soy as the US and is on track to become by far the world's biggest soybean exporter by 2029.
Deforestation has increased in the Brazilian Amazon since President Jair Bolsonaro, who favours economic expansion over environmental protections, took office in 2019.