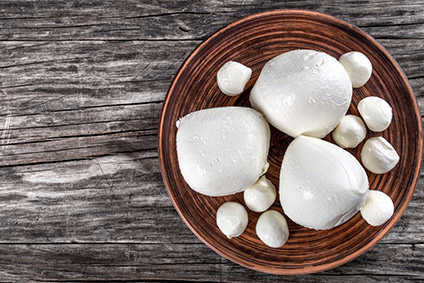 The EU and the governments of the US and Italy have been asked to approve a deal struck by dairy industry organisations over the use of the term mozzarella.
The Consorzio Tutela Mozzarella di Bufala Campana, the US Dairy Export Council (USDEC) and the Consortium for Common Food Names have announced an agreement and called on Brussels, Washington and Rome to ratify the deal.
In a statement, the USDEC said the deal "recognises the distinctive character of the name Mozzarella di Bufala Campana PDO [protected designation of origin] and its territory of production".
The council said the agreement "also recognises the rights of all to freely use the term mozzarella to describe a cheese produced according to the definition provided by the Codex Alimentarius or the US Food and Drug Administration Standards of Identity".
The United States is the largest non-EU export market for Mozzarella di Bufala Campana. The council said the deal was "a significant step towards protecting both valid GIs [geographical indications] and the use of common food names".
In a joint letter to the US and Italian governments, and the European Commission, Consorzio Tutela Mozzarella di Bufala Campana president Domenico Raimondo and Jaime Castaneda, the senior vice president for trade policy at the USDEC, said: "By protecting both the valid PDO Mozzarella di Bufala Campana and the free use of the common name mozzarella as a type of cheese, this agreement provides clarity for consumers and secures access for both European cheeses and non-European cheeses to be sold around the world without impediment."