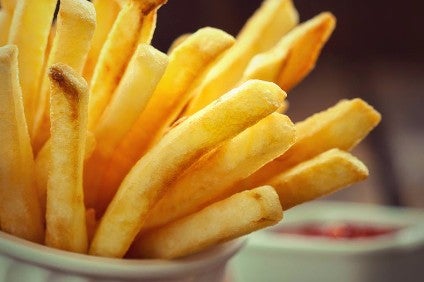 Representatives of the European Union's 28 member states voted yesterday (19 July) in favour of a proposal to reduce the presence in food of acrylamide, a known carcinogenic substance present in fries, crisps, bread and biscuits.
Once implemented, the new regulation will require food manufacturers, fast-food chains and restaurants to take measures to ensure acrylamide levels in their products remain below benchmarks.
However, European consumer organisation BEUC has said the measures do not go far enough and has called for binding limits to be introduced.
Acrylamide is a chemical that naturally forms when starchy food such as potatoes or cereals is baked, fried or roasted at above 120°C. Consumers are exposed to acrylamide in industrially-produced food such as crisps, bread and biscuits.
The European Food Safety Authority (EFSA) confirmed in 2015 that acrylamide potentially increases the risk of developing cancer. Acrylamide had first been linked to cancer in 2002 when Swedish researchers found the compound by accident. ?Following EFSA's opinion, the Commission started discussions with member states' authorities to determine appropriate regulatory measures to reduce the presence of acrylamide in food.
Vytenis Andriukaitis, the EU's commissioner for health and food safety, said: "Today we took an important step in protecting the health and well-being of citizens.
"The new regulation will not only help to reduce the presence of this carcinogenic substance but also will help raise awareness on how to avoid the exposure to it that often times comes from home-cooking."
The regulation backed yesterday will now be sent to the European Parliament and Council for approval. The two EU institutions will have three months to examine the text before final adoption. Entry into force is foreseen in spring 2018, the European Commission said.
The Commission said it was now planning to "initiate discussions" on setting maximum levels of acrylamide in certain foods after the new regulation is adopted.
That will be welcomed by BEUC, which said it regrets the EU did not go as far as setting binding limits.
Monique Goyens, the organisation's director general, said: "The consumer group urges the Commission and member states to swiftly deliver on their promise to set binding limits for certain foodstuffs.
"It has been 15 years since scientists have known about acrylamide in food and warn about its effect on health. Yet, levels of this cancer-causing contaminant in Europeans' food have remained roughly the same. So it is good news the EU is finally obliging the industry to act and reduce acrylamide in their fries, crisps, bread, biscuits, or coffee.
"However, we remain convinced binding limits are needed if we are to effectively protect consumers."