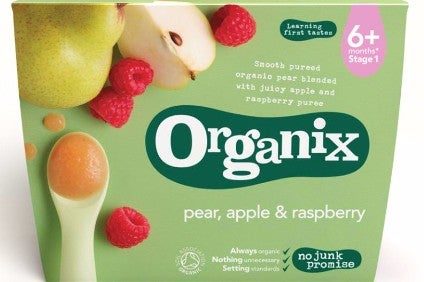 Hero, the Switzerland-based baby food-to-snacks maker, saw its earnings rise in 2016, helped by higher profits in Europe, despite muted growth in sales.
The company behind Organix baby food, Vitrac jams and Corny cereal bars booked a 2.2% increase in net profit to CHF73.4m (US$70m). Operating profit was up 5.2% at CHF113.8m.
Hero CFO Karsten Boyens said the company's profits in Europe, a region that accounts for 64% of its sales, rose 8.6% in 2016.
The group's sales in Europe, when adjusted for "negative effects from non-strategic, branded business", increased 1.9%. Hero said markets including Germany, the Nordics and the UK "contributed over-proportionately" to the growth it saw in Europe.
Hero's net sales inched up 0.6% to CHF1.27bn and by 0.1% on an organic basis.
Rob Versloot, Hero's CEO, said the sales of the company's branded in its "core categories" of baby and toddler food, jams and healthy snacks, rose 3.8%, which he described as "a satisfying level" of growth.
The increase in sales from those parts of Hero's business offset a fall in the sales of the company's baby and toddler milks. Versloot pointed to changes to regulations in the sector in China, as well as "adverse developments in our specialties and non-branded businesses".
Hero said its sales in its emerging markets rose 4% on an organic basis. Its sales in North America fell 2.9% when measured organically, with the Beech-Nut owner citing "lower sales in non-core specialties and the co-packing business".
Looking to this year, Hero said: "For 2017, Hero is cautiously optimistic that it will continue its path of profitable growth. We plan to grow top and bottom line in our core categories, fueled by new product initiatives and our focus on commercial execution."