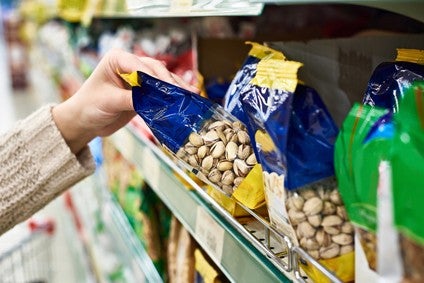 AIM, the European Brands Association, is road-testing what it describes as "pioneering digital technology" it hopes could lead to an improvement in the recycling process for packaged goods.
The Brussels-based organisation – which counts food giants such as PepsiCo, Nestlé, Danone, Arla Foods and Mondelez International amongst its members – said more than 85 companies and organisations from the "complete packaging value chain" are taking part in the digital watermarks trial.
AIM said: "One of the most pressing challenges in achieving a circular economy for packaging is to better sort post-consumer waste by accurately identifying packaging, resulting in more efficient and higher-quality recycling."
It suggests digital watermarks may have the potential to "revolutionise the way packaging is sorted in the waste management system, as it opens new possibilities that are currently not feasible with existing technologies".
The discovery was made under the New Plastics Economy programme of the Ellen MacArthur Foundation, which investigated different innovations to improve post-consumer recycling. Digital watermarks were found to be the most promising technology.
This has led to the launch of a pilot scheme under the title HolyGrail 2.0.
Michelle Gibbons, AIM's director general, said: "The three key ingredients here are innovation, sustainability and digital, combined to achieve the objective of the Green Deal towards a clean, circular and climate neutral economy.
"It is terrific to see such enthusiasm from across the industry and to be able to unite such expertise from the complete packaging value chain, from brand owners and retailers to converters, EPR schemes, waste management systems, recyclers and many more. Collaboration is the way forward to achieve the EU's circular economy goals."
Digital watermarks are imperceptible codes, the size of a postage stamp, covering the surface of consumer goods packaging.
The idea is once the packaging has entered into a waste sorting facility, the digital watermark can be detected and decoded by a standard high resolution camera on the sorting line, which then makes it possible to sort the packaging into corresponding streams.
Surveys for just-drinks/just-food Surveys for just-drinks/just-food 100% 10
Screen reader support enabled.