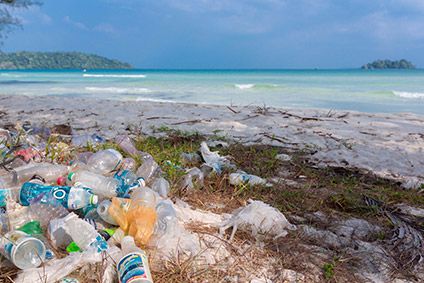 Governments, NGOs and businesses in Europe are to work together under the auspices of a "pact", to be unveiled today (6 March), to try to tackle plastic waste.
Nestlé is among 80 organisations across the public and private sectors to have signed the European Plastics Pact, which has a set of goals to complete by 2025, including the reduction of virgin plastic products and packaging by at least 20%.
Members of the initiative are also aiming to raise collection and recycling capacity in Europe for plastic packaging by at least 25% and increase the use of recycled plastics in packaging to an average of at least 30%.
By 2025, Switzerland-based Nestlé is aiming for all its packaging to recyclable or reusable. It also has a target of reducing its use of virgin plastics by one third.
Asked why the KitKat owner had signed up to the pact, a Nestlé spokesperson said: "The … pact creates the space for effective private-public collaboration, supplementing and going beyond existing legislation. It brings committed actors/frontrunners across the whole plastic value chain and governments together from all over Europe.
"As a company, we recognise the importance and value of this voluntary initiative. These types of platforms play an important role in helping us, and others, to achieve commitments on packaging sustainability, for which we need strong and ambitious collaboration."
A full list of signatories has yet to be published at the time of writing. A formal launch event for the pact is taking place in Brussels this morning.