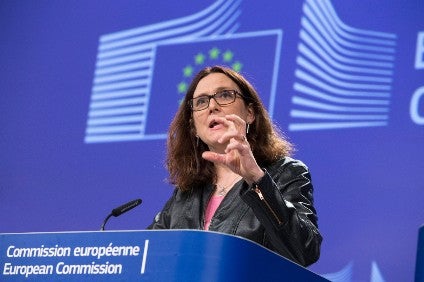 The European Commission's higher duties on US products, including food, issued in response to the tariffs from the Trump administration on imports of steel and aluminium, go live today (22 June).
The US tariffs of 25% on foreign-made steel and 10% on aluminium are the result of a Section 232 national security investigation, and were applied from 1 June. In response, the European Union earlier this month moved ahead with its plans to impose temporary safeguard duties on imports of US-made clothing.
Originally scheduled for early July, the EU's measures have taken effect from 22 June. By putting the duties in place, EU Trade Commissioner Cecilia Malmström said the bloc is exercising its rights under World Trade Organization (WTO) rules.
"We did not want to be in this position," said Malmström. "However, the unilateral and unjustified decision of the US to impose steel and aluminium tariffs on the EU means that we are left with no other choice. The rules of international trade, which we have developed over the years hand in hand with our American partners, cannot be violated without a reaction from our side. Our response is measured, proportionate and fully in line with WTO rules. Needless to say, if the US removes its tariffs, our measures will also be removed."
The EU will impose an additional 25% tariffs on a list of products worth EUR2.8bn (US$3.23bn). Affected items include rice, orange juice, bourbon whiskey, tobacco, cosmetics, steel and aluminium, textile, apparel, and footwear items, playing cards, sailboats and motorcycles.
The Commission said the retaliatory tariffs are part of a three-pronged EU response that also includes the 1 June launch of a WTO case and the 26 March initiation of a safeguard investigation meant to protect the European market from disruptions caused by the diversion of steel from the US market.
The EU has also warned that tariffs on another EUR3.6bn worth of US goods could be increased by 10%-50% in March 2021 (or sooner, if the WTO case is decided against the US before then) if the US has not rescinded its steel and aluminium tariffs by that time.