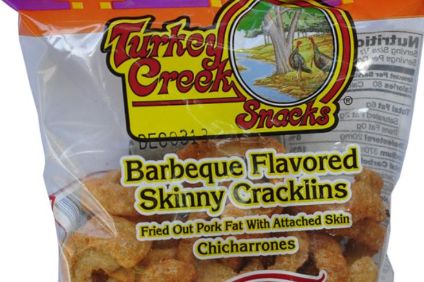 US pork rinds manufacturer Evans Food Group has acquired local peer Turkey Creek Snacks for an undisclosed sum.
Chicago-based Evans, owned by investment group Wind Point Partners, produces branded and private-label pork rinds, as does Turkey Creek, based in Thomaston, Georgia.
Evans said the deal creates the opportunity to leverage both companies' complementary product and brand portfolios and distribution networks. It added that it also provides it with a strong position in the convenience channel and adds a manufacturing platform in the south east of the country that will be expanded.
Jose Luis Prado, Evans chairman and CEO, said: "Both companies share a passion for delighting our customers with delicious and high-quality products and being great partners to our customers and distributors for many decades. We are also excited to leverage Turkey Creek assets to expand our product portfolio with more product solutions and brands. The combination also increases our capacity to keep up with this fast-growing market."
Joe Lawler, principal with Wind Point Partners, said: "We are excited about the combination of Evans and Turkey Creek. Both companies are intensely focused on growing the pork rinds category. From a strategic perspective, the acquisition of Turkey Creek will give Evans a launch pad to grow in the large convenience channel and enhance our manufacturing capacity and capabilities in a new geography."
Gail and Laddie Fulcher, the founders of Turkey Creek, added: "The merging of Turkey Creek and Evans, with the support of Wind Point, is a win-win for our customers, our team members and for our town. All three organisations share common values.
"Leveraging Evans' national manufacturing footprint will allow us to serve Turkey Creek's clients across the country in a much better way. The combination will also enable expansion of the Thomaston plant."
Wind Point Partners acquired Evans in April 2016 in partnership with Jose Luis Prado, a more than 30-year veteran of the global snacks industry.