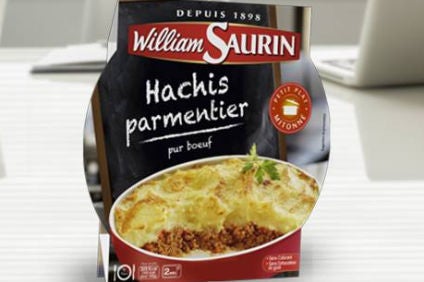 Business rescue specialist Arnaud Marion, who was largely responsible for the turnaround of major French poultry firm Doux, is spearheading a bid by New York-based investor Sandton Capital Partners to buy French ready meals brand William Saurin from embattled food holdings group, Financière Turenne Lafayette (FTL).
Marion told just-food yesterday (17 May) Sandton had submitted an offer just ahead of the 15 May deadline set by the judicial administrator overseeing the sale of FTL's assets.
Media reports said that Sandton had made a commitment to invest EUR40m (US$44.5m) in William Saurin's production plants and as much again in working capital, in addition to the purchase price.
Marion declined to comment on these claims, but he did underline the offer was "global" in scope and made provision to retain all of William Saurin's workforce, which totals around 1,300 staff.
FTL declined just-food's invitation to comment on the bids received for William Saurin.
Media reports said several offers had been received including those from Raynal & Roquelaure, which owns the Zapetti ready meals brand, the co-operative Cecab (d'Aucy) and fund manager LBO France.
A source close to the sale process told just-food the announcement of the winning bid would probably be made within the coming week as William Saurin was running out of cash and some suppliers had stopped deliveries to its plants.
FTL received emergency financial aid of close to EUR70m from several banks and the French state at the start of the year. It followed the preliminary findings of an audit that revealed evidence of the falsification of the group's accounts over a prolonged period and debts in the region of EUR350m.
In April, FTL accepted a takeover offer for its charcuterie business from local pork giant Cooperl. Earlier this month, French firm Pastacorp said it had tabled a bid for FTL's fresh pasta business.