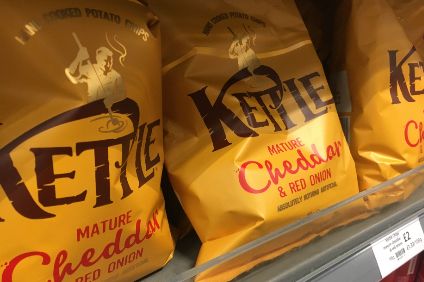 Ireland's Valeo Foods has reportedly attracted takeover interest from a number of potential suitors following speculation its private-equity owner CapVest was looking to put the Kettle crisps and Jacob's biscuits maker on the market.
Sky News has reported London-headquartered PE firm Cinven and Gavin Darby, the former Premier Foods executive and now chairman of fruit supplier Orchard House, are working together on a GBP1.5bn (US$2.06bn) bid for Valeo.
The talks are said to be at an early stage, and are part of an auction of Valeo instigated by CapVest, Sky News said today (26 March) after the broadcaster reported in January the private-equity firm had engaged the services of US investment bank Goldman Sachs to oversee the process.
Cinven and Darby reportedly join private-equity firms Bain Capital, Advent International and PAI Partners as other interested parties, the broadcaster said, quoting City sources.
A spokesperson for CapVest told just-food "our official position and policy is not to comment on speculation", while a representative for PAI Partners said the business "never comments on speculation like this". Bain and Cinven both declined to comment.
just-food was still awaiting a response from Advent at the time of writing.
Dublin-based Valeo was formed by CapVest more than a decade ago when it bought two Irish food businesses: Batchelors and Origin Foods. It then went on to acquire Kettle crisps and Rowse honey, both now under the Valeo umbrella, along with another acquired business, snack maker It's All Good.
Some of CapVest's other holdings include meat and seafood business Eight Fifty Food Group, which now houses Young's Seafood, and Carroll's Cuisine, a deli-meats and ready-meals firm, and German confectionery company Schluckwerder Holding.
Valeo is now a business with EUR1.2bn (US$1.4bn) in sales operating in the UK, Ireland and the rest of Europe.