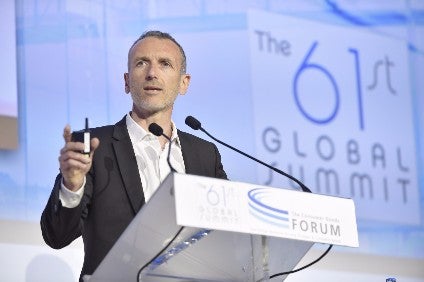 Danone's board has decided Emmanuel Faber should stand down as the Activia maker's chairman amid continued investor criticism of the French group's strategy and its recent executive shake-up.
Faber has been removed as chairman with immediate effect, with lead director Gilles Schnepp taking on the role.
Two weeks ago, the Alpro owner said Faber would stand down as its CEO after almost seven years at the helm but stay on as its new non-executive chairman.
Danone had been under pressure from a group of shareholders to split the roles of chairman and CEO, while there had been some calls for Faber to leave the business entirely.
The changes, which also included Schnepp being named one of two vice chairmen, did not fully placate the critical investors, which included UK-based Bluebell Capital Partners and US shareholder Artisan Partners. They persisted in their demands for Faber, who had worked at the French giant since 1997, to not stay on.
In a statement this morning (15 March), Schnepp, who used to run infrastructure business Legrand, said he and the board "want to thank Emmanuel for his leadership and significant contributions to Danone since 1997, and since 2014 as CEO and then chairman and CEO".
Schnepp added: "He leaves Danone with a strong platform from which to accelerate and grow. I also want to take this opportunity to thank Danone employees around the world that continue to work to grow and build the business for all consumers, customers and stakeholders."
Véronique Penchienati-Bosetta, the CEO of Danone's international business and Shane Grant, the chief executive of its operations in North America, will jointly lead Danone while the company looks for a new permanent CEO.
In a statement carried by Reuters, Bluebell said: "Of course the 'job' starts now with the board due to appoint a top-class CEO. We are confident that under the leadership of Mr. Schnepp, a profitable growth trajectory will be restored at Danone whist also keeping focus on sustainability."
just-food analysis: Where now for Danone after Faber's departure?