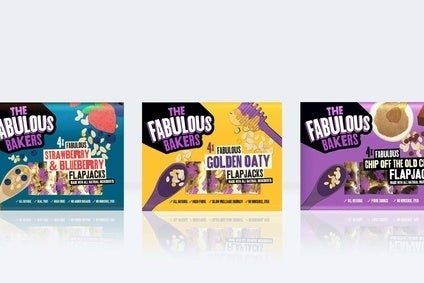 UK muffin and flapjack maker Fabulous Bakin' Boys has announced a rebranding ahead of a marketing push that will focus on its natural ingredients.
The company, now owned by Dutch baker Daelmans Group after a takeover last year, is changing its name to The Fabulous Bakers and is reformulating its products to see the use "only natural honest ingredients" with no artificial colours, flavours or preservatives.
Richard Cooper, CEO of The Fabulous Bakers, said: "The UK branded baked goods category is currently confectionery hiding in sheep's clothing, often pretending to be natural when the products are full of artificial preservatives, stabilisers, inverted glucose syrups and unnecessary e-numbers. In 2015, families deserve more. The Fabulous Bakers small team has worked incredibly hard to change everything about our offering, and are pioneering a different, more back to basics way of making great baked goods. The team are really excited to be the first mainstream branded bakery to use only natural, honest kitchen-cupboard ingredients with no artificial nonsense."
The Fabulous Bakers is also adding popcorn bars and oat cereal bars to its range.