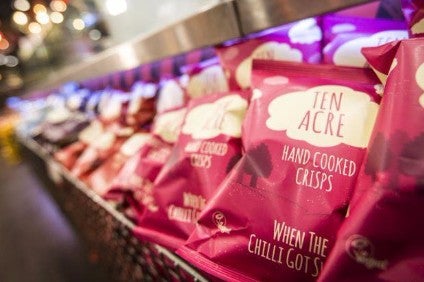 UK firm Fairfields Farm Crisps has snapped up crisps brand Ten Acre from local peer Yumsh Snacks for an undisclosed sum.
In a statement posted on Facebook and Twitter, Essex-based Fairfield Farm Crisps said: "We have an exciting development. Fairfields is now a whole ten acres larger following the recent acquisition of another great like minded crisp brand called – Ten Acre crisps.
"The two brands share values around high quality, free-from attributes, combined with sustainable farming using renewable power. Fairfields is now able to offer all Ten Acre products cooked on our family farm, including popcorn, to our existing stockists."
In a further statement, Fairfield Farm Crisps co-founder Robert Strathern said: "This is an exciting step for us. Ten Acre has the same values as Fairfields, so we felt they were a good fit. Plus, their experience and rapid growth in export, opens-up opportunities for us."
Fairfields Farm Crisps is a brand owned by husband-and-wife team Robert and Laura Strathern. The Stratherns, both from farming families, started making crisps in 2006, at first outsourcing production before bringing manufacturing in-house in 2011.
The company's UK stockists include Tesco, which stocks its Heat & Eat microwaveable crisps, which were launched last autumn.
Ten Acre is the flagship brand of Manchester-based Yumsh Snacks. The company, set up in 2013, has been selling Ten Acre snacks in the UK and internationally for three years and now supplies to around 40 markets.
In the UK, Ten Acre products are available in chains including Holland & Barrett, Whole Foods Market, and Selfridges.
The Yumsh product portfolio also includes Poptang Tango popcorn, a line of popcorn using the flavours from UK soft drink brand Tango, and Bean & Pod chocolates.
Ten Acre co-founder Tony Goodman said: "Our joint attributes and parallel thinking will push both brands forward to become a force to be reckoned with in the snacking sector."