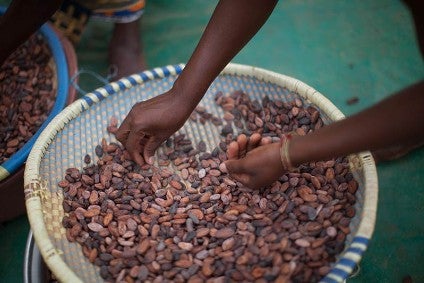 Fairtrade International will increase the minimum price it pays farmers for cocoa next year.
Effective from October, the Germany-based organisation said it will raise the minimum price for conventional cocoa to US$2,400 per metric ton, from $2,000 at the point of export.
For Fairtrade-certified organic cocoa, the price will rise to $300 above the market price or the Fairtrade Minimum Price, whichever is higher at the time of sale. The current minimum price is fixed at $2,300 per metric ton.
"World cocoa prices plunged by more than a third last year, and it is farmers who bear the brunt of price volatility," the non-profit organisation said in a statement. "Fairtrade is the only certification scheme that has a mandatory minimum price, which acts as a safety net for farmers when market prices fall, while allowing them to benefit when prices rise."
The price increases were approved by the Fairtrade Standards Committee, which includes farmers and trade representatives, and follows consultations with those groups, along with end-product manufacturers and chocolate brands.
In addition, the so-called Fairtrade Premium will increase from $200 to $240 per metric ton, which is paid to farmers on top of the selling price and can be used to spend on projects of their own choice. Fairtrade said the Premium earned by associated cocoa farmer cooperatives last year amounted to $43m.
Fairtrade said it will review its pricing again in three years.
"The new Fairtrade Minimum Price will allow average Fairtrade cocoa growing households to earn above the extreme poverty line," the organisation said.
Fortin Bley, an Ivorian cocoa farmer and chairperson of Fairtrade Africa's West African Network, said of the price increases: "This is good news for West Africa's cocoa-growing communities. Farmers have been badly squeezed by low world prices, so the higher Fairtrade Minimum Price and Premium help to level the playing field for a more sustainable future."