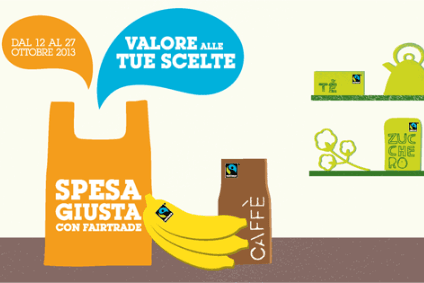 The retail value of Fairtrade-certified products sold in Italy last year amounted to EUR110.2m (US$123.3m) – an increase of 11% over the previous year, according to latest figures.
Fairtrade Italia said the total volume of business in the country has "doubled" in the past five years, with the "lion's share" of sales from bananas.
Paolo Pastore, Faitrade Italia director, said: "There is a growing awareness that it is possible to contribute to fair trade with a simple act of buying."
Fairtrade-certified bananas made their debut in Italian supermarkets in 2002. "Year after year, sales of this product have grown to exceed 11,000 tons in 2016," the organisation said.
Domestic consumption of Fairtrade coffee is also on the rise, "with an increase of 22% over the previous year", the organisation said.
Last year also saw the "definitive consolidation of the Fairtrade programme" in Italy since its launch in the country in 2014, Fairtrade said.
The Fairtrade premium generated in Italy in 2016, the amount that goes to the communities from where products originate, in addition to the 'fair price' paid to the producers, is estimated to have risen to EUR1.34m for main products" – including bananas (EUR559,000) and sugar EUR203,500.
Last month, Germany reported that sales of Fairtrade-endorsed food products in that country reached a record EUR1.2bn in 2016.