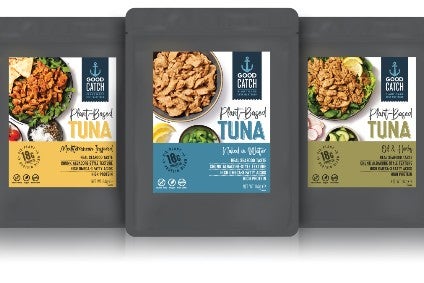 Plant-based seafood brand Good Catch has launched its first products into the UK market.
Three "tuna" products, made from six legumes, plus seaweed and algae extracts, will be available in Tesco.
"There has never been a better time to launch plant based products than now," Good Catch co-founder Chad Sarno told just-food.
Some 34% of shoppers in the UK now "actively choose" foods to help limit their impact on the environment, according to YouGov. While seafood and farmed fish tends to have lower carbon emissions than, say, beef, the pressure on wild fisheries has been widely documented and the pollution, welfare and feed issues in aquaculture are increasingly in the spotlight.
Fellow faux-fish manufacturer Sophie's Kitchen is looking at new production facilities in the UK in order to meet demand and could manufacture from a location in north-east England dubbed Plant-Based Valley. The site is 600,000 sq ft of manufacturing capacity owned by entrepreneur and V-Bites founder Helen Mills.
"We'll be launching a new protein pretty soon, maybe out of plant-based valley," Sophie's Kitchen founder Eugene Wang told just-food.
An explosion in plant-based seafood has been in the pipeline for a couple of years. However, manufacturers now believe they have a recipe for success: quality products, consumer appetite and the ears of the supermarkets. Doors open more easily "than five years ago", Sarno said.
Manufacturers are keen to target the UK because the market provides a bellwether for success elsewhere. "UK consumers are notoriously picky, especially when it comes to plant-based food," Wang explained. "If you can make it here, you can make it anywhere."
In the 52 weeks ending 29 December 2019, "fish-free" products grew 14.9% in value to GBP3.2m (US$4.2m). Volume was also up 15.9%, according to Kantar.
However, the market in the UK is only "scratching the surface", Sarno said. Good Catch has reached 4,500 stores in the US in just 12 months.
At Sophie's Kitchen, Wang said there is a clear and "very urgent" need for more plant-based products. Markets in Asia are also showing promise. Enquiries from China are up 200% in the past three or four months. "They've realised they need to develop plant-based proteins and develop them fast in order to satisfy the needs of their people."