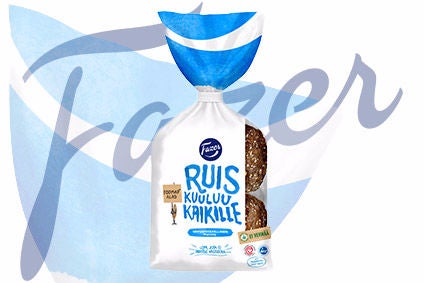 Finland's Fazer Group has launched a "low-FODMAP" rye bread in its domestic market, targeting consumers with "sensitive stomachs".
The bread is based on a rye sourdough, which has natural lactic acid bacteria that break down the FODMAPs in the sourdough. FODMAPs are certain carbohydrates that are poorly absorbed in the gut.
"Thanks to this new baking method, the FODMAPs in rye bread can be more than halved," Fazer says. The company pointed to data published at this year's Digestive Disease Week international conference, which claimed "up to 75% of people suffering from irritable bowel syndrome reported that their symptoms decreased when they limited their intake of certain poorly-absorbed carbohydrates".
A Fazer spokesperson told just-food the bread was being stocked at "all retailers" in Finland and had achieved "very good listings". She added: "We know that stomach problems are one of the main reasons for people to avoid bread. At the same time, rye bread is a part of Finnish diet, as well as very popular traditional product and flavour, even a symbol for Finnishness. Rye bread is a source of a FODMAP component. We wanted to solve this problem and give all people a possibility to enjoy tasty rye bread."
The spokesperson insisted retailers would decide on the price of the bread but said: "We estimate that the price level will be around EUR2 (US$2.26) per pack."