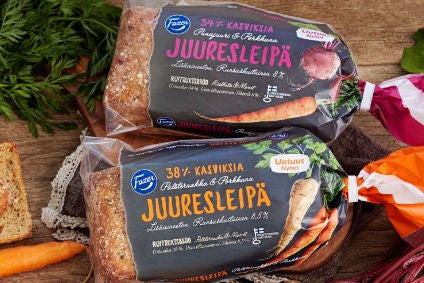 Finland's Fazer Group is launching a range of breads in its domestic market in which root vegetables are used to replace more than a third of the flour in the products.
The new Fazer Juuresleipä responds to consumer demand for "bread rich in nutrients", Fazer said. The company has developed two lines – one containing parsnip and carrot and the other including beetroot and carrot. The breads will hit stores next month.
Fazer launched a similar line in Sweden last year. The company said the Fazer Rotfruktsbröd had "exceeded expectations".
Heli Anttila, the product development director within Fazer's bakeries business, said the breads due to go on sale in Finland were developed with local consumers in mind.
"Finland and Sweden have their own special bread culture. The new Fazer Juuresleipä was designed specifically for the Finnish taste and differs from the Swedish bread ingredients. The Finnish version is baked with even more vegetables and accompanied by Finns' favourite cereals, rye and whole wheat."