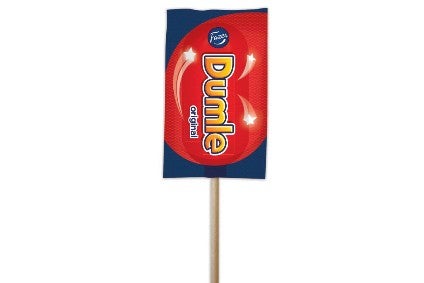 Finland-based food manufacturer Fazer Group is to stop making a candy product that first hit the market more than 60 years ago.
Fazer said the production lines on which its Dumle lollipops are made have "become hard to maintain and repair" in recent years.
A Fazer spokesperson said the lollipops are made in Sweden by an unnamed "business partner". The largest market for the products is Denmark, which accounts for more than 40% of sales.
The toffee and chocolate products are sold in more than 30 markets. Fazer said the product has its roots in Sweden where the then Mazetti company produced the first flat lollipop in 1945. The product was named Dumle 15 years later, with Fazer acquiring Mazetti in 1975. Fazer now sells a range of products under the Dumle brand.
"We have tried to find a solution to continue the production in an efficient and sustainable way but unfortunately that is no longer possible. We have reached the conclusion that no viable alternative to the proposed production line have been identified. The craftmanship as well as the recipe is as unique as the lollipop itself and therefore hard to replace with today's modern technology, Anne Repo, the marketing director for Fazer's Finnish confectionery business, said.
"Fazer is working on a solution to be able to produce a new version of the classic Dumle Lollipop in the future. We know the lollipop is a beloved product by many consumers and we work hard with our selection of Dumle products. We will continue our efforts to develop and find a way to produce a lollipop again in the future."
Earlier this month, Fazer set out plans to close a bakery in Sweden as part of a plant efficiency programme, with production to be transferred to other factories in the country. The company also announced it is looking to make another round of potential lay-offs linked to Covid-19 at its confectionery plant in the Finnish city of Vantaa.