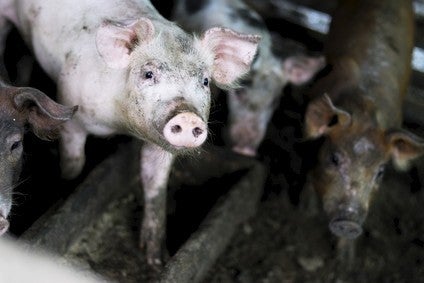 The US Food and Drug Administration released a new rule yesterday (2 June) that aims to curb the use of antibiotics in meat production in the hope that this will stem the development of antibiotic resistant bacteria.
The FDA 's Veterinary Feed Directive will require "medically important" antibiotics used on animals that will enter the food chain to be administered with "veterinary oversight". The rule will apply to drugs intended for use in animals or on animal feed.
The requirement is intended to ensure that animals are only administered antibiotics when necessary for their health and well being. Currently, regularly administered doses of antibiotics are routinely used to boost an animal's growth.
"The actions the FDA has taken to date represent important steps toward a fundamental change in how antimicrobials can be legally used in food-producing animals," Michael Taylor, the agency's deputy commissioner for foods, said in a news release.
"The Veterinary Feed Directive final rule takes another important step by facilitating veterinary oversight in a way that allows for the flexibility needed to accommodate the diversity of circumstances that veterinarians encounter, while ensuring such oversight is conducted in accordance with nationally consistent principles."
The FDA's rule will take effect in 120 days. According to the government agency, it is expected to cost industry US$1.41m in one-time compliance costs. The FDA expects the annual benefits of a more efficient veterinarian feed directive to be $13,000 over 10 years. Additionally, the agency said the reduction in veterinarian labour costs due to this rule is expected to result in a cost savings of about $7.87m annually.
The directive was welcomed by the American Veterinary Medical Association (AVMA). AVMA CEO Dr. Ron DeHaven commented: "This is a great example of how collaboration by the FDA with stakeholders has brought about meaningful improvements and a successful outcome. Antibiotic resistance is a threat that the veterinary profession takes very seriously, and that's why the nation's veterinarians have been, and remain, engaged with the FDA and food producers to ensure that livestock are healthy and that our food supply stays safe by overseeing the use of antibiotics to ensure appropriate use."