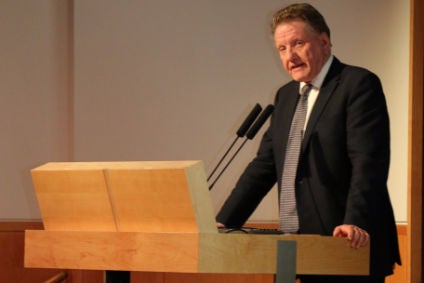 The UK's Food and Drink Federation (FDF) has called on the country's government to compensate businesses affected by the closure of the border between Britain and France.
The industry body's CEO Ian Wright told UK Members of Parliament yesterday (22 December) that the government should have realised the likely impact of a statement it made at the weekend saying it was introducing tight new restrictions as a response to the prevalence of a new variant of coronavirus.
Following that announcement, France closed the border with the UK from Sunday night (20 December) leaving hundreds of lorries containing freight intended for the Continent stranded on motorways and lorry parks in Kent in south-east England unable to reach the key cross-Channel port of Dover.
From this morning (23 December), France is allowing freight to continue its journey from the UK as long as drivers have passed a coronavirus test.
Wright described the situation over the last few days as "chaos" and suggested the number of lorries affected is more than people think.
"We reckon there are about 4,000 food and drink lorries on their way to Dover at various points," he said.
"Those that haven't set off yet will have to be cleared as well."
Wright said there are "dozens of lorries with products that are going off" and added "there is a huge hit happening as we speak on Scottish seafood".
He said he has concerns for the knock-on effect from the backlog and fears that drivers will be in the wrong place and unable to deliver post-Christmas supplies.
UK supermarket groups Sainsbury's and Tesco have warned about a possible shortage of supplies of fresh fruit and vegetables after Christmas as a result of the situation and Tesco has now introduced rationing on food items including rice and eggs.
The French halt to border crossings at the weekend exacerbated problems at key UK ports which were already facing disruption caused by the impact Covid-19 has had on global shipping schedules, combined with a shortage of empty containers.
The new Covid-19 variant, first discovered in England's south-east region, has led to the government announcing new lockdown restrictions and tightening up its rules over gatherings at Christmas.