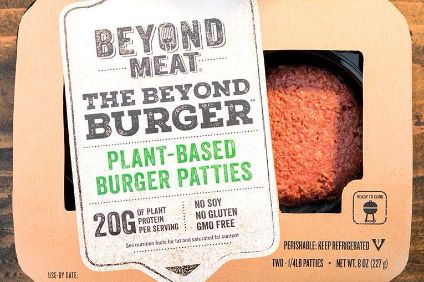 US plant-based protein firm Beyond Meat has delayed the launch of its Beyond Burger product in the UK.
The California-based firm's product has received much hype in the US, where it is often displayed in supermarkets alongside meat products, and its planned launch in the UK via big four supermarket Tesco this summer was widely anticipated.
It was due to launch in 350 Tesco stores at the beginning of this month.
But now it appears Beyond Meat has become a victim of its own success and fears about failing to meet retailer and customer demand have convinced it to cancel the UK launch indefinitely.
In a statement sent to just-food, Seth Goldman, executive chairman at Beyond Meat, said: "We're seeing much higher-than-expected demand for the Beyond Burger in the US, and even in the few places where we've placed it in the UK (such as Honest Burgers at Kings Cross), we are seeing higher-than-expected demand.
"So we are taking steps to make sure that when we do launch, we will be sure to have enough product to keep the shelves full."
Founded in 2009 by Ethan Brown, Beyond Meat launched the Beyond Burger in 2016. It looks and tastes like beef, but is made entirely from plants without GMOs, soy or gluten.
The company launched the Beyond Sausage late last year.
The decision to ditch plans to launch in the UK comes despite Beyond Meat opening a new Beyond Burger production facility in Missouri in June which tripled its manufacturing capacity.
In May Beyond Meat revealed plans to expand worldwide in as many as 50 countries through agreements with distributors and foodservice outlets.